ACT Branch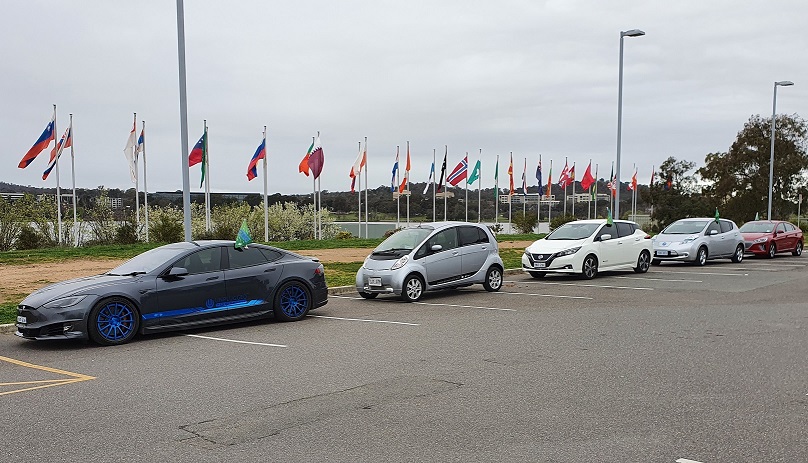 Who we are
We are the ACT Branch of the Australian Electric Vehicle Association (AEVA). We are a volunteer-run, not-for-profit organisation dedicated to promoting electric vehicle technology (including cars, trucks, buses, bikes and scooters) in the ACT. Our members include early adopters and DIY enthusiasts who have converted petrol cars to EVs. Our key motivations include abating emissions and decreasing Australia's dependence on imported fossil fuels. We celebrate the fact that EVs are cleaner, quieter, safer and more reliable.
We aim to promote the uptake of EVs in Canberra. We do this in a context of government support. The ACT Government has announced an Action Plan for transition to zero emission vehicles, and our Branch is working with ACT Government officials to encourage progress on this Plan.
Our Executive
The Annual General Meeting on 7 September confirmed the Executive for 2020/21. All of the 2019/20 office holders were re-elected. They are:
Chair – Edward Eom
Deputy Chair – Mark Hemmingsen
Secretary – Warwick Cathro
Treasurer – Darryl Bourke
Events Co-ordinator – Adele Craven
Policy Co-ordinator – Peter Campbell
The Chair, Secretary and Treasurer can be contacted by e-mailing
Anyone seeking contact details for other members of the Executive should request them from the Secretary.
Meetings
Our meetings are opportunities to share ideas among our members, to hear from guest speakers, to plan events, and to share information on technical matters.
Our next General Meeting will be on Monday 1 February 2021, at the IonDna Showroom, Gladstone St., Fyshwick. Prior to that, a Planning Meeting for the "Cut Emissions, Go Electric" Project will be held on 18 January 2021, at the Harmonie German Club in Narrabundah. (For more details, see the "Branch Events" box on this page).
The AEVA ACT Executive has decided to use the Harmonie German Club as our meeting venue after our next General Meeting, and to transition to a new meeting schedule of the third Monday of each month. (This transition will involve meetings on 22 February and 15 March). In December, there is usually a social gathering such as a barbecue at a picnic site.
AEVA ACT Branch members can access the agendas and minutes of recent monthly ACT Branch meetings. You will need to sign on and to have the status of a financial member in order to view these documents.
Click here to access agendas and minutes
Discussion list and Facebook pages
The Branch maintains a Canberra EV e-mail discussion list, which is open to anyone (ie not just AEVA members) interested in electric vehicles in the ACT. The list provides a channel for meeting reminders, for timely distribution of news, and for debate and discussion of relevant topics. Subscribers to the list are encouraged to join AEVA and to participate in Branch meetings.
Instructions on joining the Discussion List may be found here.
There is also an AEVA ACT Facebook private group here, for the exchange of information that is relevant only to AEVA members.
In addition, there is a Canberra EV Facebook public group here. Like the Discussion List, it is open to anyone interested in EVs in the ACT.
ACT vehicle statistics
Some statistics on vehicles registered in the ACT, including the number of electric vehicles, may be found here.
Efforts to encourage government policies
Between mid 2018 and eary 2020, the Branch fostered a Working Group on EV Policy and Advocacy. The final report of that Working Group may be found here.
As part of its activities, the Working Group developed this promotional leaflet for use at community outreach events.
The Branch now has a Policy Co-ordinator as part of its Executive Team, and will continue to advocate for improved EV policies by the Federal and Territory governments.
In April 2020, the Branch held a workshop to share ideas with Violet Law, a Public Policy student at ANU who was undertaking research on policies to encourage transition to zero emission vehicles, in collaboration with the Conservation Council ACT Region. Her research report can be found here.
Community Zero Emissions Grant
In 2020, the Branch was successful in its bid for a Community Zero Emissions Grant from the ACT Government. The Branch was awarded a grant of $24,940 to host a series of events (including an innovative Zero Emissions E-Venture), supported by print and on-line material and media promotion, to promote the benefits of electrified transport. This project aims to overcome myths about EVs and personalise the rewards and benefits of owning and using electric vehicles, to individuals and the wider community.
Our grant bid, containing details of the proposed outcomes of this project, may be found here.
Recent activities
An account of some recent activities of the ACT Branch may be found here.
Articles
Articles written by AEVA ACT members may be found here.
Interested in joining AEVA?
To join AEVA, click here. Once you are a member you'll get regular email updates.
Contact
For more information on the ACT Branch please e-mail secretary [at] act.aeva.asn.au