ACT Branch

EV registrations in the ACT

As of 27 March 2023, the ACT has 3,720 registered electric vehicles.
This represents over 1.1% of the total number of light vehicles registered!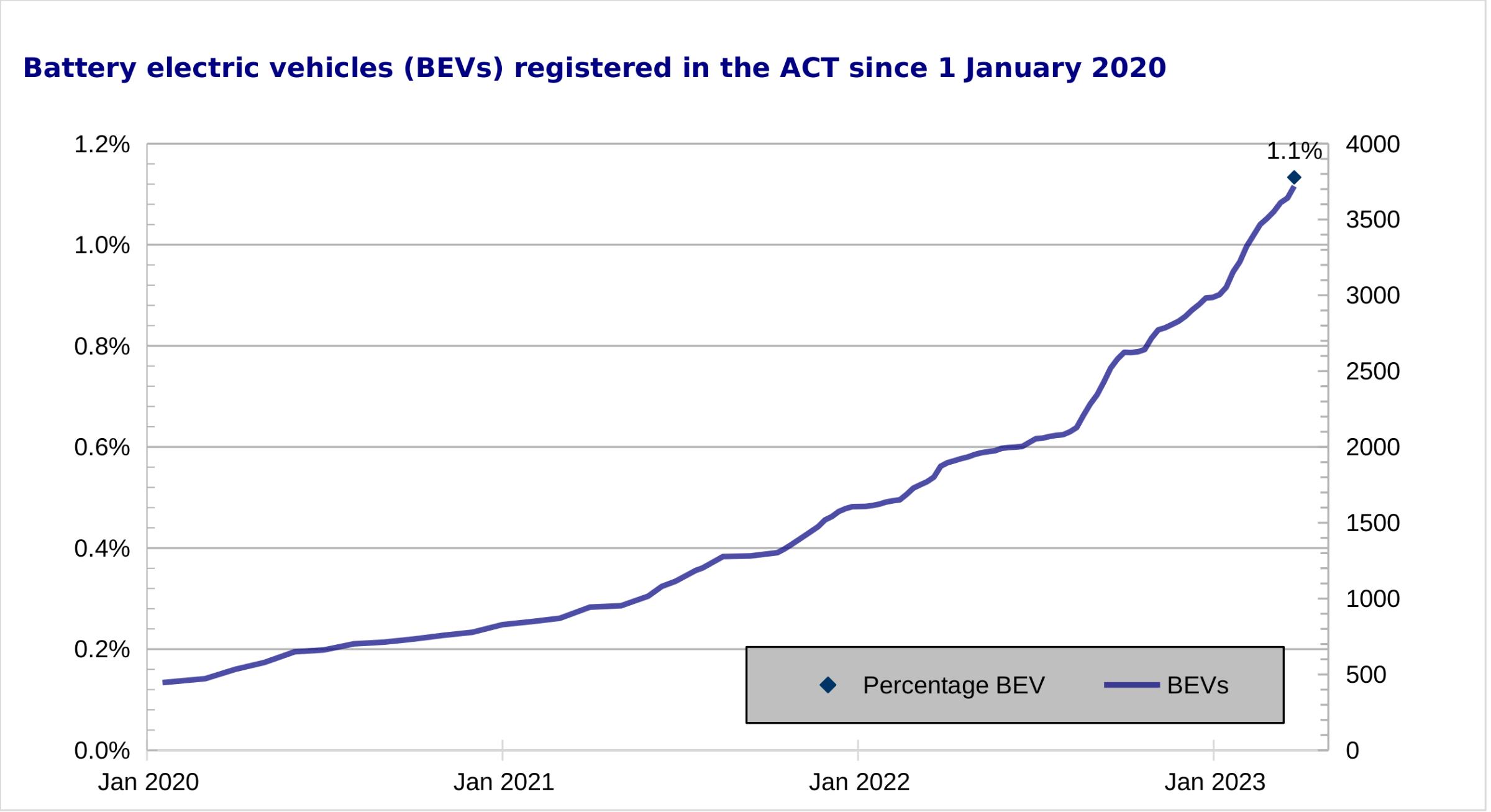 More detailed statistics on ACT vehicle registration (including the number of electric vehicles) may be found here.
---
Who we are
We are the ACT Branch of the Australian Electric Vehicle Association (AEVA). We are a volunteer-run, not-for-profit organisation dedicated to promoting electric vehicle technology (including cars, trucks, buses, bikes and scooters) in the ACT. Our members include early adopters and DIY enthusiasts who have converted petrol cars to EVs. Our key motivations include abating emissions and decreasing Australia's dependence on imported fossil fuels. We celebrate the fact that EVs are cleaner, quieter, safer and more reliable.
We aim to promote the uptake of EVs in Canberra. We do this in a context of government support. The ACT Government has a set of policies supporting the transition to zero emission vehicles, and our Branch is working with the ACT Government to encourage this transition.
Our core project for 2021-22 was the "Zero Emissions, Go Electric" Project. This project was funded by a Community Zero Emissions Grant from the ACT Government. A final report on the Project, as presented to the ACT Government's Grants Officer, may be found here.
Our Branch Committee
Current office holders are:
Chair: Richard Czumak
Secretary: Darryl Bourke
Treasurer: Peter Gorton
Director: Jude Burger (representing ACT on the National Council)
General Committee members: Peter Campbell, Warwick Cathro, Simon Claringbold, Mark Hemmingsen, Peter Lyons, Rob Ogilvie.
The Chair, Secretary and Treasurer can be contacted by e-mailing
Anyone seeking contact details for other members of the Executive should request them from the Secretary.
---
Meetings
Our meetings are opportunities to share ideas among our members, to hear from guest speakers, to plan events, and to share information on technical matters.
Our next meeting will be held at 7pm on Monday 217th April 2023.
Our General Meetings are usually held on the third Monday of each month, at 7pm at the Harmonie German Club. In December or late November there is usually a social gathering such as a barbecue at a picnic site.
All members attending these meetings are asked to
become members of the Harmonie German Club ($5 annual fee).
AEVA members can access the agendas and minutes of recent monthly ACT Branch meetings. You will need to sign on and to have the status of a financial member in order to view these documents.
Click here to access agendas and minutes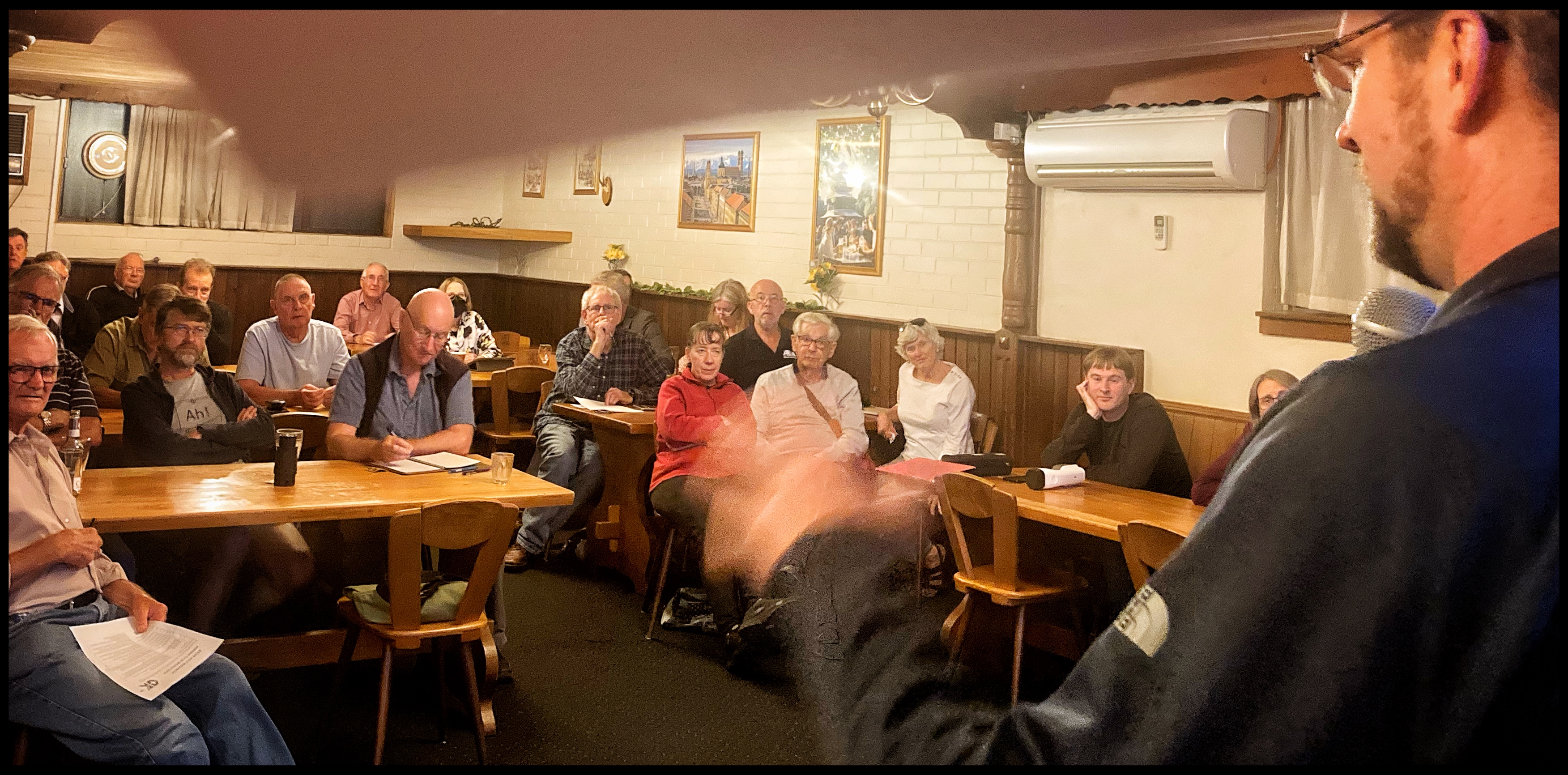 Photo above of AEVA-ACT members at their March general meeting.
---
Discussion list and Facebook pages
The Branch maintains a Canberra EV e-mail discussion list, which is open to anyone (ie not just AEVA members) interested in electric vehicles in the ACT. The list provides a channel for meeting reminders, for timely distribution of news, and for debate and discussion of relevant topics. Subscribers to the list are encouraged to join AEVA and to participate in Branch meetings.
Instructions on joining the Discussion List may be found here.
There is also an AEVA ACT Facebook private group here, for the exchange of information that is relevant only to AEVA members.
In addition, there is a Canberra EV Facebook public group here. Like the Discussion List, it is open to anyone interested in EVs in the ACT.
---
Shannons Wheels
The 2023 Shannons Wheels car and bike display was held at the Queanbeyan Showground on Sunday 19 February.
As an affiliated member of the Council of ACT Motor Clubs, AEVA ACT provided a displayed of Electric Vehicles (EVs). Members provided twenty two EVs for our display with a great variety of brands.
A continual stream of interested people mingled around the EVs with our members providing them with real life information about their EVs. It was "quiet" an achievement amounst the roar of reving ICE vehicles.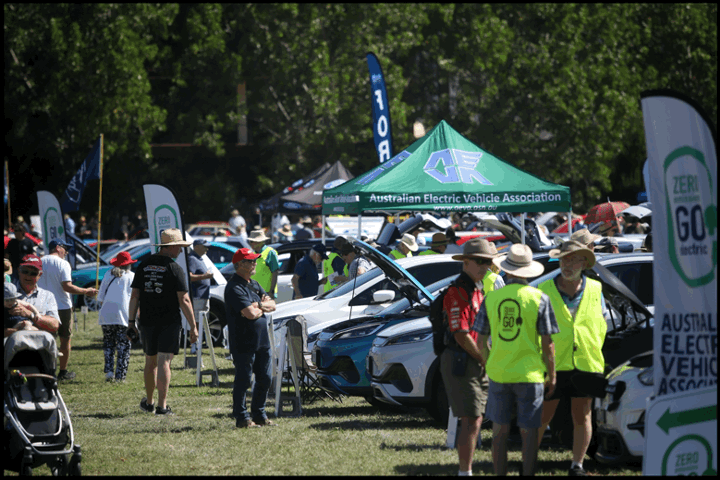 Vehicle to Load (V2L) was demonstrated with boiling the jug and running an espresso machine.
---
Influencing government policies
In recent years the ACT Branch has advocated for EV-friendly policies in the ACT, and has contributed to AEVA advocacy at the national level.
In mid 2018 the Branch lodged this submission to the Senate Inquiry into Electric Vehicles. A reflection on the Senate Inquiry can be found in this article.
Between mid 2018 and early 2020, the Branch fostered a Working Group on EV Policy and Advocacy. The final report of that Working Group may be found here. One of its important outcomes was this set of recommendations on EV charging in new strata dedvelopments.
In 2020 the Branch lodged this submission to an inquiry by EVenergi concerning initiatives to drive the transition to zero carbon transportation in the ACT.
The Branch is a member of the Conservation Council ACT Region. During 2020 it worked with other member groups to develop policy recommendations for the ACT election, including the "Sustainable transport" recommendations on page 9 of "Our environment, our future". The Branch will undertake a similar collaboration in the context of the 2024 ACT election.
In January 2021, the Branch issued a position paper on public EV charging infrastructure in the ACT. An updated position paper was released in February 2022. This paper outlines the requirements of EV drivers in the light of the ACT Government's plan to develop 50 new EV charging stations during the 2020-2024 term of Government.
In 2021 the Branch took a leading role in preparing this AEVA submission to the review of the National Construction Code (NCC). A presentation on this activity, including the successful outcome of the NCC review, may be viewed here.
In 2022 the Branch lodged this submission to an Inquiry into EV uptake by a committee of the ACT Legislative Assembly.
In 2022 the Branch made a a strong contribution to the AEVA National submission on the National EV Strategy.
---
Information resources developed by AEVA ACT
Facts about electric motorbikes (2022)
Electric vehicle charging etiquette (2021)
Retrofitting electric vehicle charging in strata properties (2021)
Financial incentives for the purchase of Zero Emission Vehicles in the ACT (2021)
Recommendations on EV charging facilities in new strata developments (2019)
Submission by AEVA ACT to the Senate Inquiry into Electric Vehicles (2018)
---
Recent activities
A summary of the activities of the ACT Branch in 2022 and 2021, including photos of some events, may be found here.
Articles
Articles written by AEVA ACT members may be found here.
Interested in joining AEVA?
To join AEVA, click here. Once you are a member you'll get regular email updates.
Contact
For more information on the ACT Branch please e-mail secretary [at] act.aeva.asn.au