ACT recent activities
Activities during 2023
5,000 EV publicity

On Tuesday 11th July AEVA ACT was proud to be apart of the media announcment with Minister Shane Rattenbury of over 5,000 registered electric vehicles in the ACT. WIN TV and the ABC covered the event that inlcuded the launch of an online tool to help choose an electric vehicle.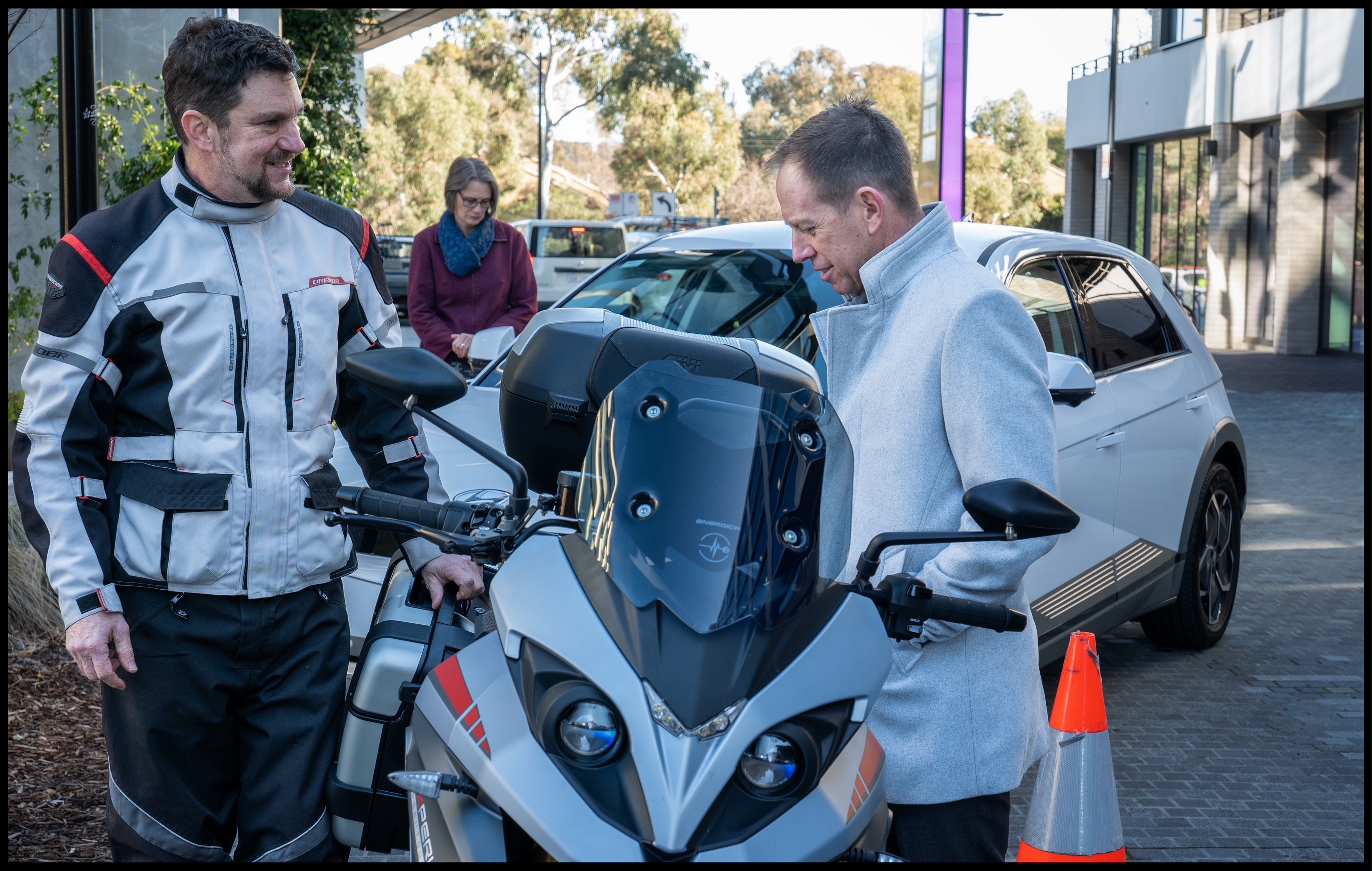 AEVA ACT members Paul and Kate. Paul is showing Minister Shane Ratenbury his electric motorcycle. Source: ACT Government
EV Experience Day, 9 July

A great turn out by ACT members at the Town Centre Vikings in Tuggeranong where the the public were able to chat to EV owners and take passenger rides in a wide range of different EV models.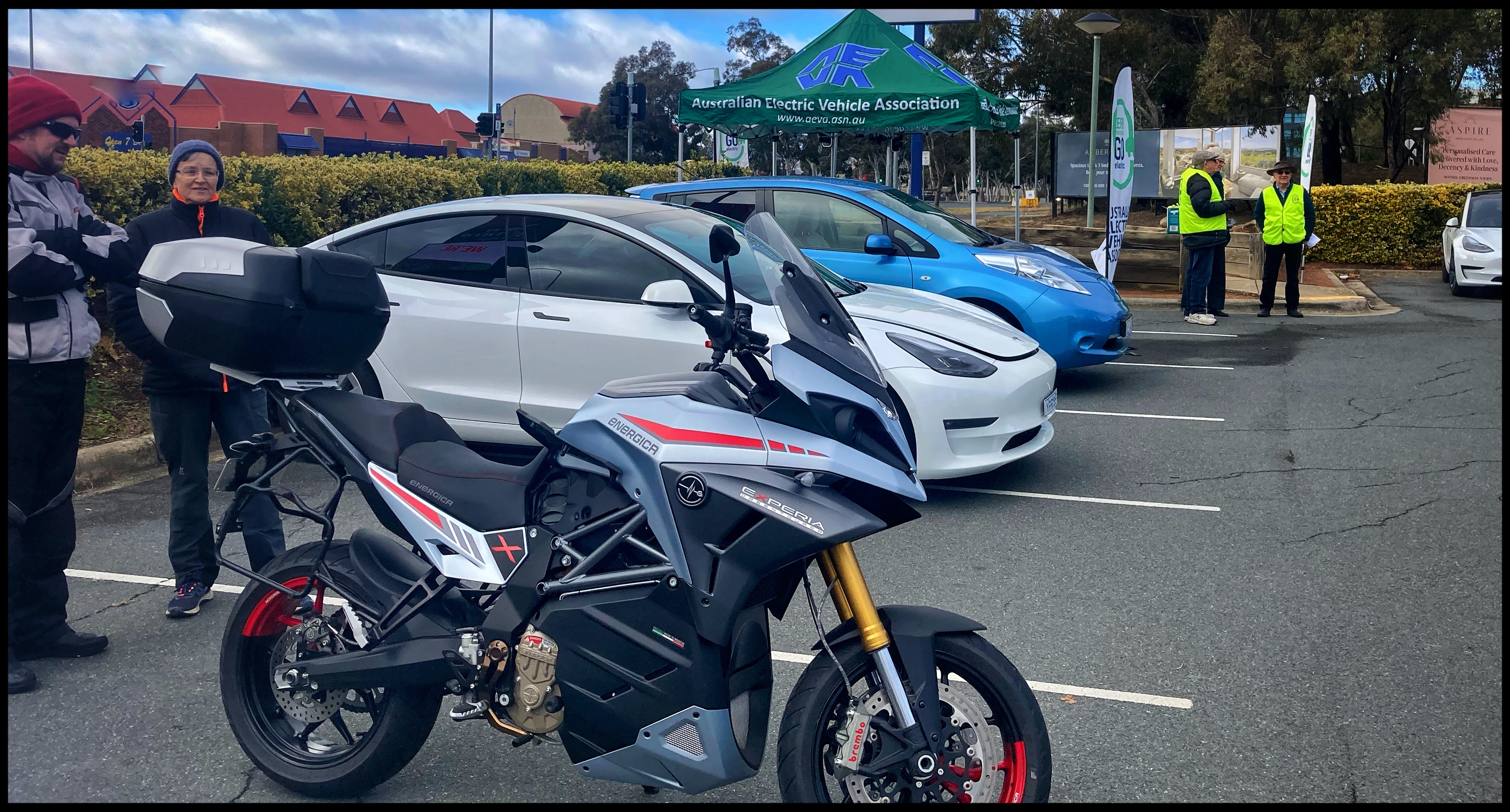 Members Picnic
An enthusiastic group braved the Canberra chilly wind for a picnic at Red Hill lookout on Sunday May 21st, just before winter kicks in. A highlight was using the vehicle-to-load (V2L) feature of the BYD Atto 3 to cook sausages and provide hot capsule coffee.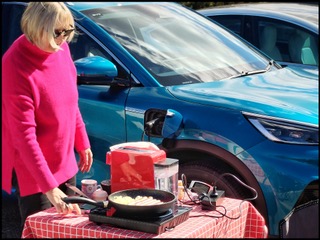 Activities during 2022
The Branch held a successful EV Experience event at London Circuit on 16 January 2022.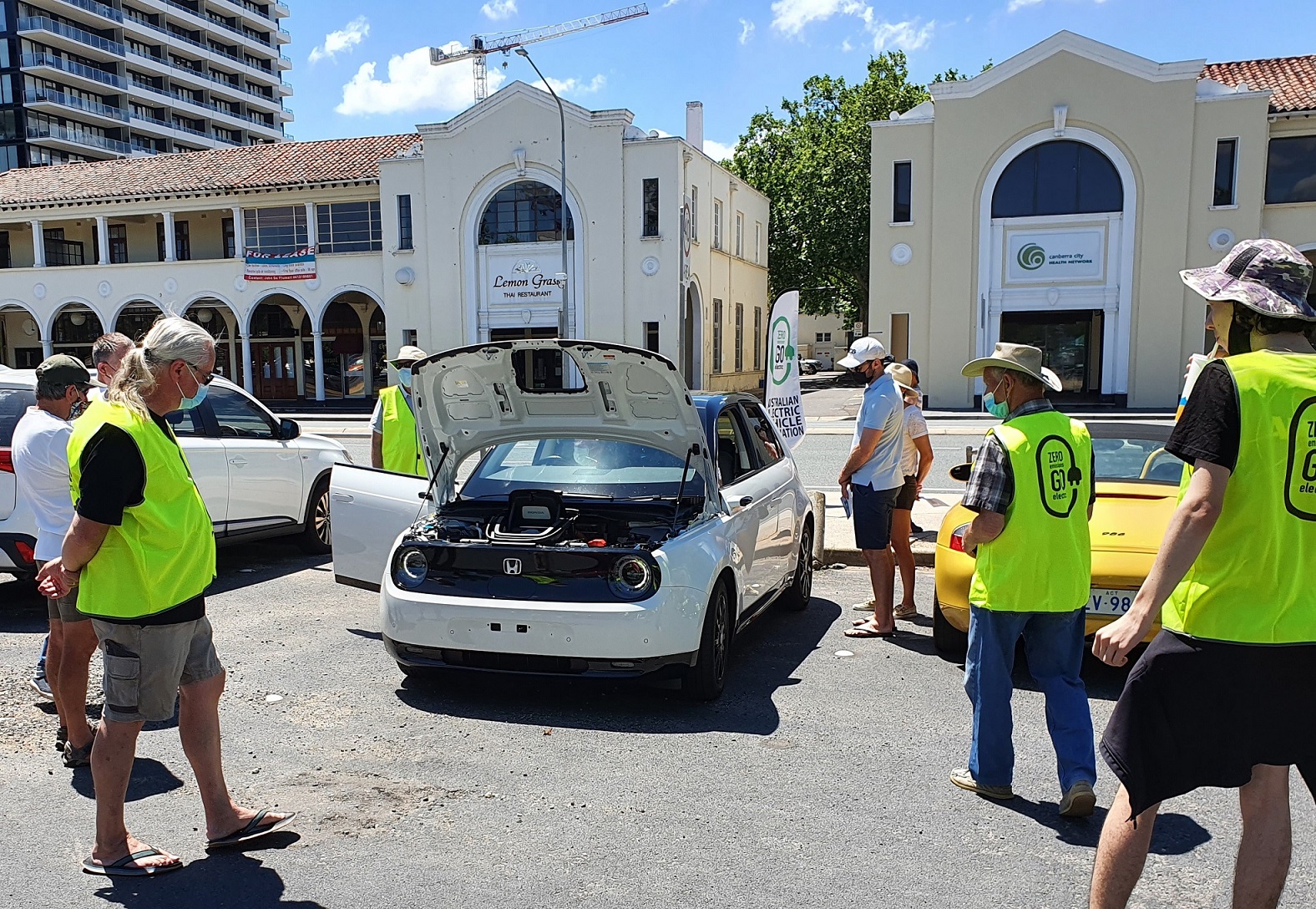 The next EV Experience event comprised the AEVA ACT contribution to Shannons Wheels at the Queanbeyan Showground on 6 March 2022. The EV display attracted hundreds of visitors, well over half being ACT residents. Although passenger rides were not offered, the visitors engaged in almost non-stop conversation with the EV owners for 3.5 hours. One of our cars was chosen as the Car of the Show. This car, displayed by John Smith, is a Tesla Model 3 fitted with hand controls. John contracted polio at a very young age, and drives his Model 3 using the hand controls, accompanied by a foldup wheelchair that fits easily in the boot.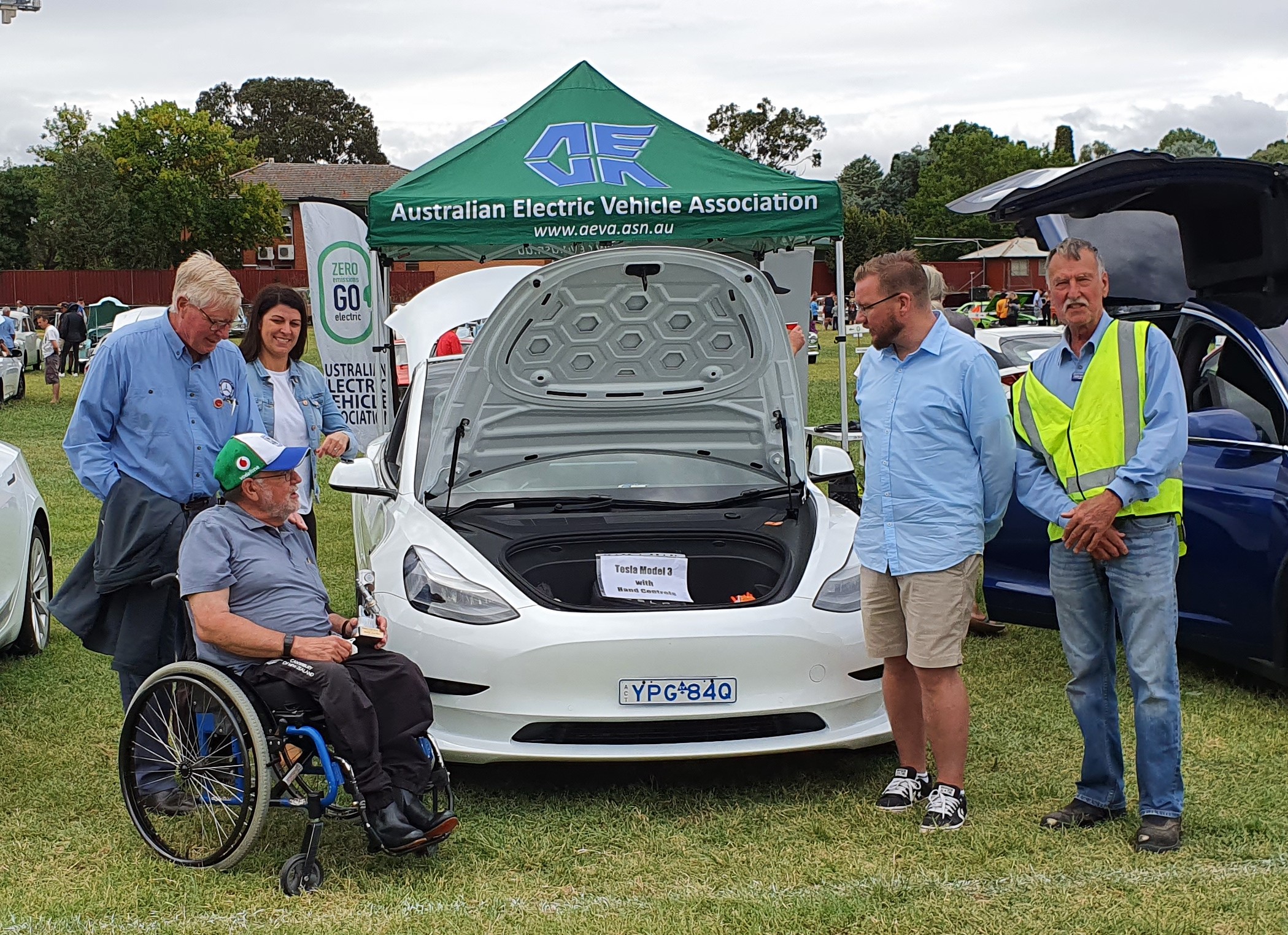 The Branch held a major event – the Zero Emissions EVenture – on 24 April 2022. A formal report is available here. A further description of the event can be found here.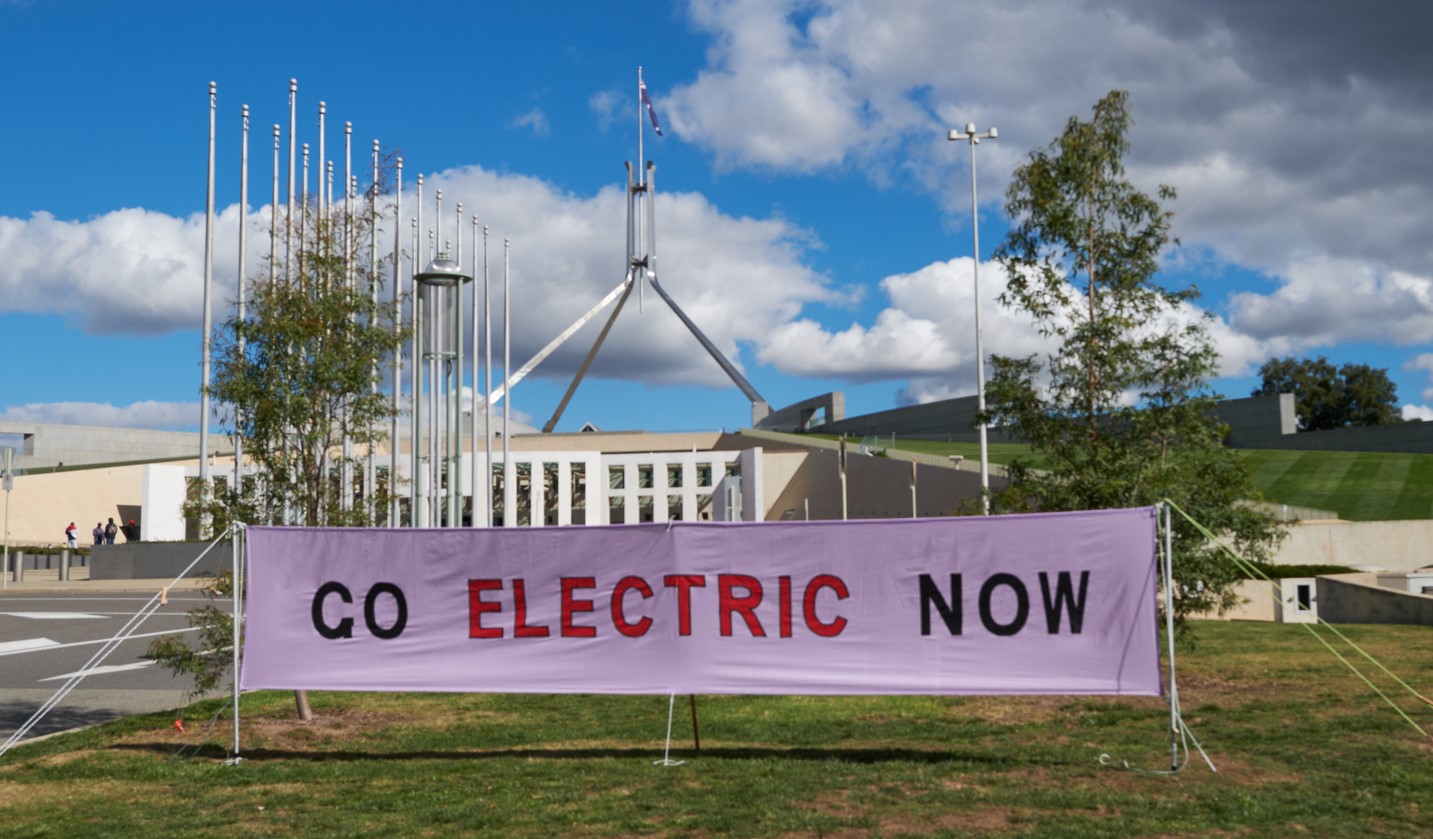 The next EV Experience event was held at London Circuit on 5 June 2022. This event was less well attended due to poor weather, but a good range of EVs was displayed and there were many useful conversations with visitors.
The Branch supported the National EV Expo on 6-7 August 2022, held at Exhibition Park in Canberra. Feedback from attendees and vendors at the Expo was overwhelmingly positive. Media reports indicated around 10,000 members of the public attended. The Branch organised two days of "try/rides", involving 12 different EV models, which provided passenger rides to more than 500 members of the public.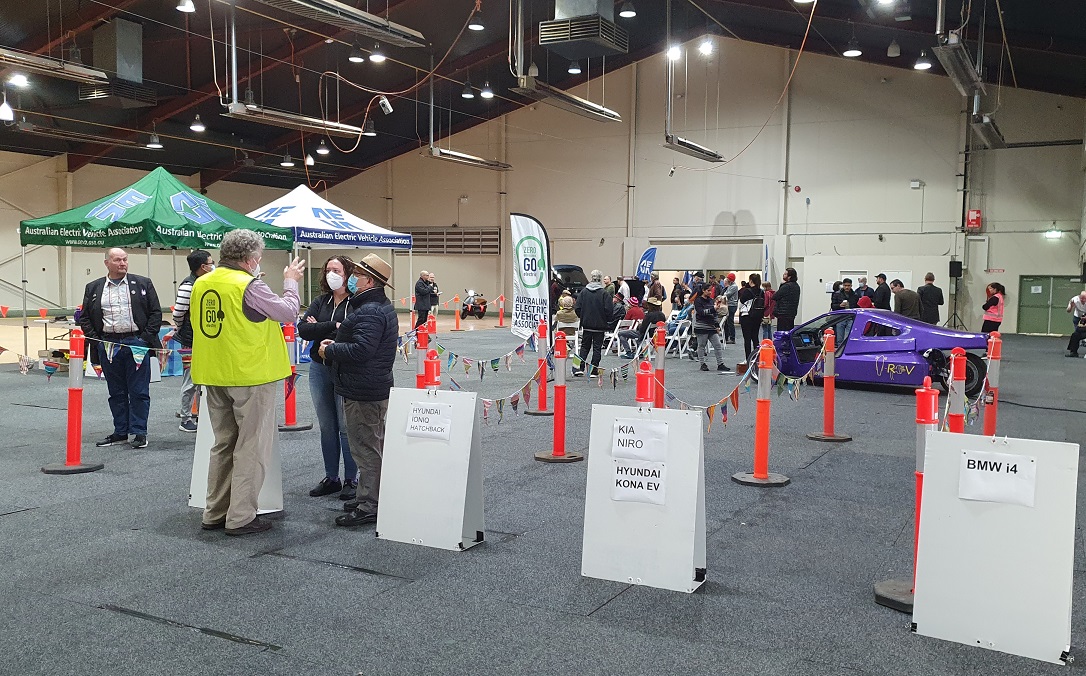 Our Policy Co-ordinator (Peter Campbell) organised a submission to the ACT Assembly inquiry into the uptake of EVs in the ACT. About 10 of our members contributed to that submission, and several members also made individual submissions. Our submission can be found here.
The Branch also participated in the NRMA EV Drive event at Wagga on 17-18 September.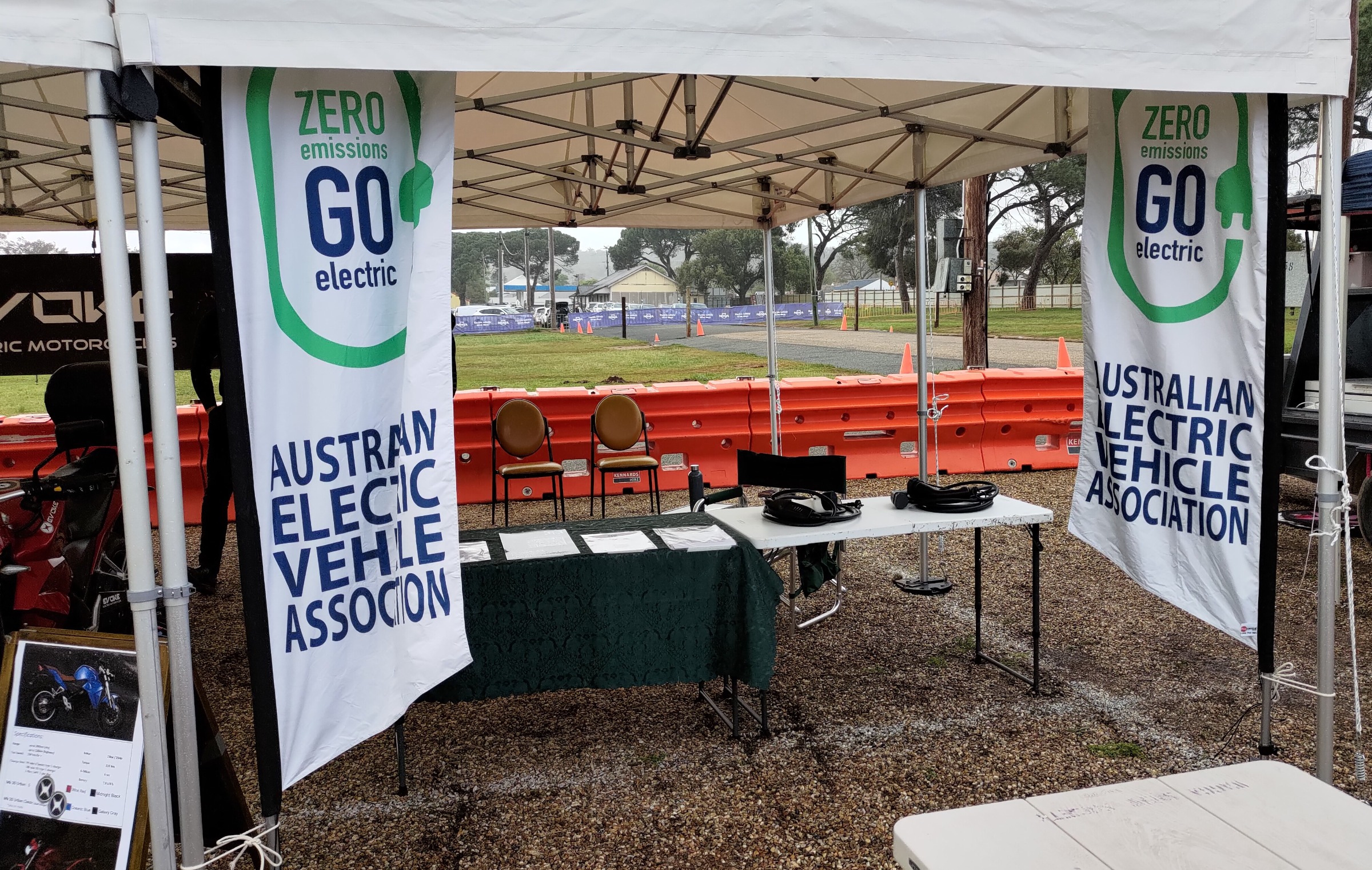 Activities during 2021
The Branch had an important meeting with the Minister for Climate Change and Sustainability (Shane Rattenbury) in February 2021. This meeting was called in response to work by several of our members to spell out our future needs for EV charging infrastructure in the ACT. Among other things, the Minister confirmed that the expansion of public charging infrastructure is planned for 2021/22, that used EVs are included in the $15,000 loan scheme and that the hold up with legislating a requirement for EV charging in all new apartment buildings was more bureaucratic than due to push back from developers.
The Launch of the "Zero Emissions, Go Electric" (ZEGE) Project in May 2021 was an opportunity to further strengthen the relationship with the ACT Government, and to involve the National AEVA President (Chris Nash). This led to contact with ACT officials to seek financial support for the AEVA National Conference and Expo in Canberra in 2022.
The Zero Emissions EVenture was planned as a highlight of the ZEGE Project. There was a Pilot of the EVenture on 1 August 2021, and plans were developed to conduct the EVenture itself on 18 September. However, it had to be postponed after the ACT lockdown was introduced, and then twice extended, in August and September. The Project has helped to build additional relationships, such as with Yutong buses and Neuron Mobility.
As part of the ZEGE Project, the Branch organised successful "EV Experience" (try/ride) events in May, June and July 2021, which, apart from being a lot of fun for those who participated, allowed the Canberra community to develop its EV knowledge and understanding. The Branch also assisted AEVA Victoria to hold an EV Showcase at the Eldorado Off-Grid Living Festival in April 2021.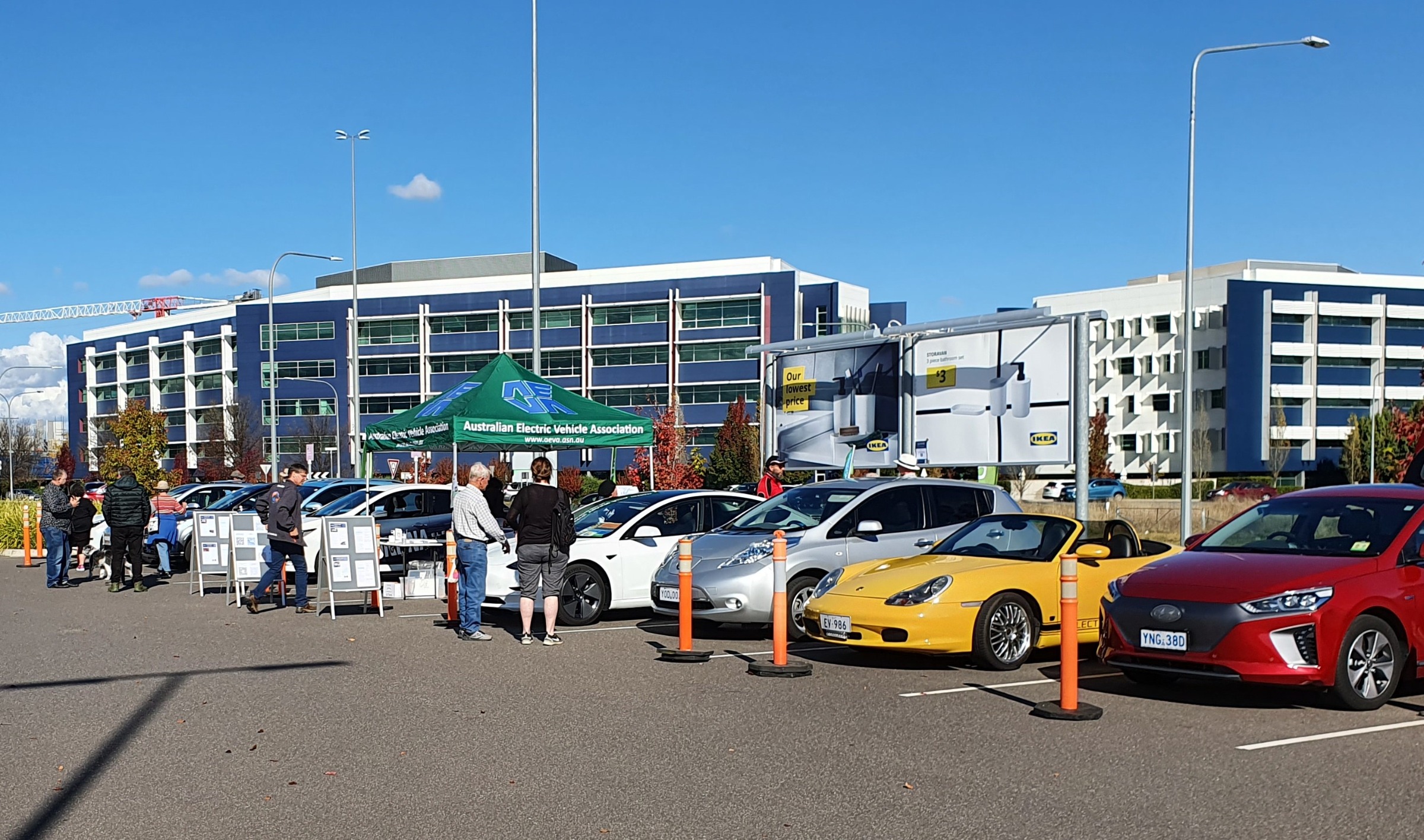 The year saw more movement than previous years on public EV charging, including from private charging companies such as Chargefox and Evie, ActewAGL moving to partner with Evie to revamp the local charging network, a commitment from the ACT government to install 50 local chargers, federal funding through ARENA, initially for fast DC chargers in urban areas and a second round for regional charging, and Tesla announced an intention to open up its charging network to other brands.
We initiated contact with ActewAGL to draw attention to deficiencies in existing charging infrastructure. We subsequently participated in a launch of the ActewAGL partnership with Evie Networks in early June 2021, and we have a Memorandum of Understanding with ActewAGL to work together to promote EV use in the ACT. Their plans for the ActewAGL charging network seem well aligned with the advice and preferences from our members that we presented to them.
Our Branch took a leading role in developing an AEVA response to a draft update to parts of the National Construction Code dealing with requirements for provision of EV charging in apartment buildings. Sensible requirements include leaving space for retrofitting on circuit boards and cable trays and the installation of 'charge control devices' to ensure that EVs will only be charged when there is available capacity in the building (generally any time other than the evening peak).
During 2021 our monthly meetings were impacted by Covid 19. It became necessary to revert to Zoom-only meetings in August, September and October 2021 as a result of the ACT lockdown.
During the year the website has been updated with "information resources" pages, covering matters such as facts about EVs, ACT Government incentives, EV charging in strata properties, and the etiquette associated with the use of public chargers.