ACT recent activities
May 2020
Our monthly meeting (held on 4 May using Zoom and Webex) attracted 28 participants.
Dave Southgate reported his experience and his views concerning the 2019 Nissan Leaf. The talk included reference to bi-directional charging and battery thermal management. Since the meeting, this presentation has been published as an article.
We noted that a call has just been issued for bids for Round 4 of the ACT Community Zero Emission Grants. The focus for this Round is "Sustainable Transport". During the month, the Branch Executive discussed whether to make a bid, and if so what the key elements should be.
Our guest speaker at the May meeting was David Alexander from the ACT Government. He reminded us of the ACT climate change policy context, including the 2020 targets of 100% renewable electricity and greenhouse emissions 40% below 1990 levels. The target emissions trajectory for the ACT involves reaching a 60% cut in emissions by 2025 and a 75% cut by 2030. This year the transport sector is projected to generate 61% of the ACT's emissions.
Some anticipated actions by the ACT Government included delivery of a zero-emission bus fleet by 2040, encouragement of active travel and bike share schemes, and further financial incentives for EVs and e-bikes.
The ACT Government vehicle fleet is targeted to be 100% zero-emission by the end of the 2020-21 financial year (where such a vehicle is fit for purpose) and hydrogen vehicles will be trialled in this fleet.
It is expected that the Parking and Vehicle Access General Code will be amended to require all new multi-unit and mixed-use developments to install EV charging infrastructure, and that there will be more investment in more public charging infrastructure, and in more bike parking and e-bike charging stations.
April 2020
Our first online monthly meeting (held on 6 April using Zoom) attracted 24 participants.
There was a discussion with Violet Law, a Public Policy student at ANU who is undertaking research on policies to encourage transition to zero emission vehicles. She sought feedback on the following research questions:
[1] What are the obstacles/concerns from the community that hinder the transition of ZEVs in the ACT? How should we respond to them?
[2] What is the role of stakeholders (e.g. government, industry, NGOs, community, end-users) in accelerating the transition of ZEVs?
[3] Are there any overseas examples that the ACT may learn/adopt?
An additional workshop was held on 13 April, using Zoom, to give detailed feedback on these questions.
Also at the monthly meeting, Pete Gorton reported on the March 2020 Electrikhana at Canning, WA, and on the World Solar Challenge held in October 2019.
Peter Campbell reported on his trip to Narooma towing a camper trailer with his Hyundai Kona EV. (Peter's report was also published in March in The Driven). The Kona was able to handle the return up Clyde Mountain with ease. It averaged 22 kWh per 100 km – about a third less efficient than travelling without towing. He concluded that towing a camping trailer and staying at caravan parks (say) 250km apart is perfectly feasible in a Kona EV.
Ben Elliston reported that the ACT is no longer applying stamp duty to the purchase of second hand EVs.
March 2020
The Branch provided an EV showcase at Shannons Wheels on 1 March 2020, at the Queanbeyan Showground. There was an AEVA marquee and a Tesla Owners Club marquee. Vehicles exhibited included a Hyundai Ioniq 2018 model, a BMW i3, a Mitsubishi iMiEV, a Mitsubishi E-Truck (imported from Japan), a Tesla Model S P100D, a Tesla Model S P90D, a Tesla Model 3, two postie motorbikes, a Mojito Custom motorbike and a Zero motorcycle 2014 SR modified.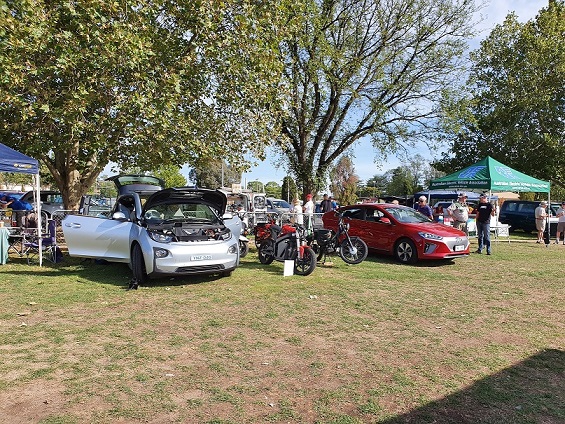 At our March monthly meeting, Bill Gresham reported on his road trip to the Noosa region in his electric Hyundai Ioniq 2020 model, travelling north along the coast, and returning inland via Tamworth.
Also at our March meeting, Jeff Knowles reported on his test drive of the ACE Cargo electric van at the Melbourne showgrounds. The prototype had the steering wheel on the left, and his overall assessment was mixed.
On 25 March, one of our members assisted Evie Networks to test their new rapid charger at Tarcutta, which is now operational.