ACT recent activities
August 2020
An "EV Experience" Day was held on 15 August at the Capital Brewing Company off Dairy Rd Fyshwick. A variety of EVs, supplied by members, were used to provide rides for interested members of the public.
The guest speakers at our August meeting were Dr Bjorn Sturmberg (Research Leader) and Hugo Temby (Research Manager) from the ANU College of Engineering and Computer Science. They spoke about the Battery Storage and Grid Integration Program, and the REVS (Realising Electric Vehicle-to-Grid Services) trial. This project has a number of partners: ActewAGL, Jetcharge, SGFleet, Nissan, Evoenergy, ANU and the ACT Government.
Vehicle-to-Grid (V2G) relies on a bi-directional charger between the vehicle and the electricity retailer and the Distributed Network Services Provider (DNSP, the "poles and wires" company) and fosters new business models and relationships between these entities. Bi-directional chargers have become more compact and are becoming cheaper.
The REVs trial will involve 51 Nissan Leafs from the ACT Government fleet, plus one owned by ActewAGL. When these vehicles are plugged in, they will be available to the national electricity system to inject power within a fraction of a second if required. The EVs will monitor the grid frequency when they are plugged in, and will quickly inject power whenever the grid frequency drops. This will contribute significantly to the prevention of a blackout in such circumstances.
Responding to questions, Dr Sturmberg said that any availability of V2G under the CCS2 standard was probably a couple of years away. Vehicle-to-Home services should be entirely possible. The customer value proposition (ie the attractiveness of a package purchase of a vehicle and a domestic battery) will need to be worked out, and Nissan dealers have already begun to experience inquiries about this. Regulatory approval for V2G in Australia is "quite close".
The REVS project is waiting for the remainder of the 51 vehicles to be acquired for the ACT Government fleet (there are 15 at present) and for hardware and software development which will be tested early in 2021. Interim reports on progress will be made via ARENA.
July 2020
At our July meeting Adele Craven gave details of the Community Zero Emissions funding bid, and outlined events which we must plan for irrespective of the bid outcome. Her presentation covered the reasons for applying for the grant, the scope of the bid, and our collaboration partners and supporters.
Neil Craven reported on his experience with the Specialised S-Works Creo electric bike and spoke about the salary sacrifice opportunities for public servants.
During July some members completed a response to a Consultation Paper by Evenergi which sought our views on the priorities for EV charging in apartment buildings, as well as public charging facilities in Canberra.
June 2020
In June three guests from Evie Networks spoke about the company's plans to deploy rapid charging infrastructure, and answered questions from Branch members. Some of their points were:
-- Evie is still in the early stages of building its network – Coochin Creek (Qld), Tarcutta (NSW) and Avenel (Vic) are live
-- the St Baker Energy Innovation Fund has been supporting Evie and Tritium, and Evie has also received some financial support from ARENA
-- they have commenced rolling out 350 kW highway charging sites and 50 kW metro charging sites
-- the Pacific Highway and Hume Highway are priorities for Evie – often the Evie sites will be only 100 km or so from the sites of other providers
-- in our region, Marulan is planned for the first quarter of 2021; Yass, Albury, Canberra and other sites will be later
-- ultra-fast charging comes with a substantial investment – to recover this investment and the running costs (including peak demand costs) implies a price averaging around $0.73 per kWh
-- Evie's initial pricing is $0.35 per kWh plus $0.25 per minute – this partially reflects the fact that when a car battery is more than 70% charged, the charging rate declines significantly
-- other charger companies, including Tesla and Chargefox, are running highway charging at a loss, which makes it difficult for companies that are trying to recover costs.
The Branch sent a letter to the NRMA in response to its claim that there is an "abundance of readily available chargers in Canberra". The letter pointed out that two existing rapid chargers in Canberra are CCS1, and commended potential Canberra sites like the Parliamentary Triangle and Calwell Shops. It also asked about Braidwood as a potential site, and commented on queuing at Mittagong.
At the June meeting Alison Plevey, leader of the Australian Dance Party (ADP) described its project to "capture the benefits of electric vehicles in a dance film". ADP uses dance and the arts as a tool to communicate issues of social and environmental change. It received a Community Zero Emissions grant in 2019 for a new round of films, one of which will focus on the benefits of electric vehicles.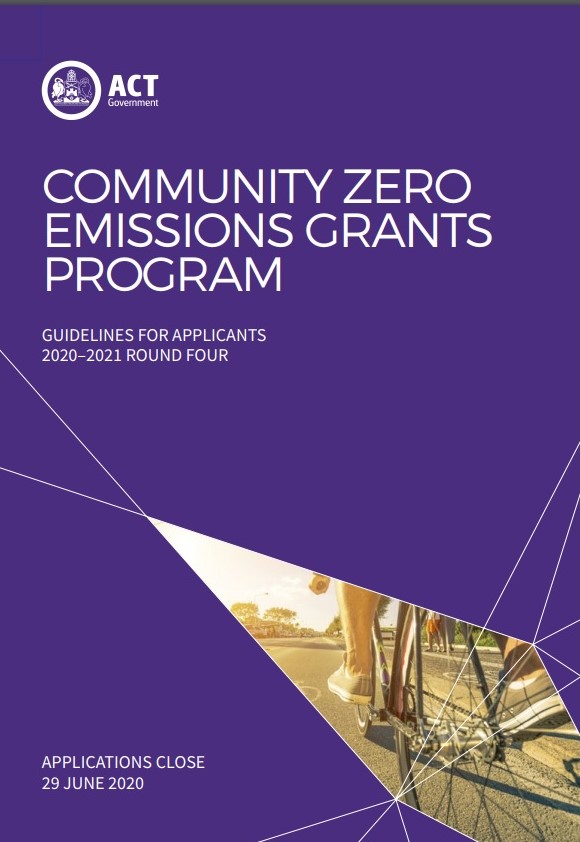 Also in June, the Branch prepared and lodged a bid for funding under Round 4 of the ACT Community Zero Emission Grants (pictured). The focus for this Round is "Sustainable Transport". The full text of this bid can be found here.
A summary of the bid, together with a report on planned future events, can be found here.