Victoria Branch
Welcome to the VIC Branch home page!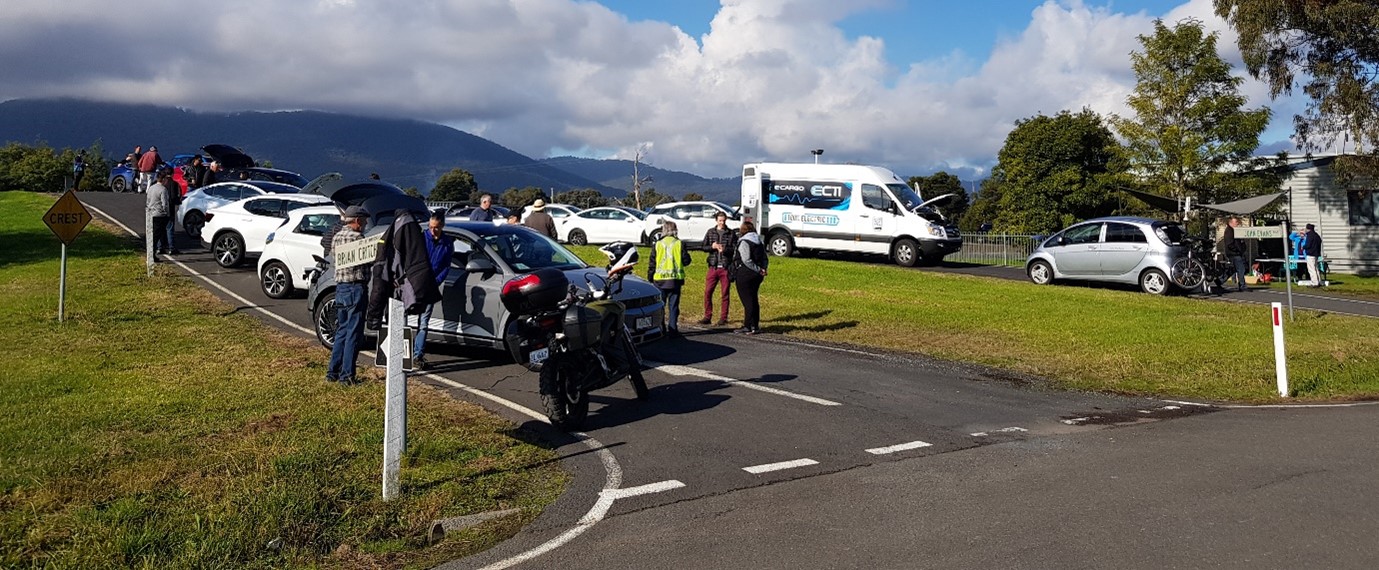 The VIC branch aims to represent the EV interests of individuals and businesses throughout the state and to assist the transition to EVs.

Meetings
---
Unless otherwise notified the Vic Branch holds an information session on the second Wednesday each month at:

Eastern Innovation Business Centre (EI)
5a Hartnett Cl,
Mulgrave VIC 3170
Where possible, we organise a zoom link to enable members to participate remotely.
A notice is usually sent to members and non-members one week prior to the event.
A reminder is then sent one or two days prior including the full agenda, map and zoom link.
Interested in joining AEVA?
To join the AEVA, Membership page here. Once a member you'll get regular email updates.
To be put on our mailing list for non-members please click here
Next Meeting
---
1st March 2023 6.30pm for 7.00pm
As advised at the last meeting we have brought forward our monthly members meeting by one week. This is because Riz has access to a Hyundai Ioniq5 for us to inspect at that time.
We also are lucky to have Dunstan Power from the UK who is visiting Melbourne on business. His company is involved in designing and installing charging infrastructure.
"We've got a history in EV charging going back to the London Olympics where we did the charger control boards for 120 chargers, and now have customers in 10 countries using our technology for their chargers. We also were part of a consortium creating the UK's first end-end V2G system."
Agenda for the night will include:
Agenda
6.30pm Inspect a new Hyundai Ioniq 5 in the EI carpark.
7.00pm Welcome
7.10 pm Ioniq 5 Specifications: Riz Akhtar
7.25 pm EVs + charging in the UK: Dunstan Power
8.00 pm Reports

Buninyong Smart Living Expo Sunday 26th February

Upcoming Supported Events

Working Groups

Monthly Member Events
Destination charging project
Local Government Area Support
Information for events and Vic Branch page of the AEVA website

National

Fully Charged Sydney 11th + 12th March

8.30 pm Tea and Coffee
---
Upcoming Vic Branch Supported Events
Bold = Volunteers Needed
Current
RACV
Video interviews with a range of EV owners
Saturday 18th March 10am-2pm
Brighton Energy Forum
Show and Shine + Info
Brighton Town Hall
Wednesday 22nd March 7pm-8.30pm
Boroondara Council
Webinar: Electric Vehicles Basics
Sat/Sun April 15th, 16th
Off Grid Living Festival
Show and Shine + Info + Presentation
Centennial Park, Eldorado VIC 3746
www.offgridevent.com.au
Saturday 20th May
Moonee Valley Sustainability
Show and Shine + Info
78 St Leonards Road, Ascot Vale
---
---
Victorian EV Policy
Vic Branch has reached out to major Victorian political parties (Labor, Liberal and Greens) to request their policies regarding EV uptake in the lead-up to the state election in November.
Key Dates:
21/08/2022 - Letter sent to major political parties, with invitation to attend monthly AEVA meeting on Wednesday 12th October. Labor's letter attached here
14/10/2022 - EV policy responses due
26/11/2022 - Victorian State Election
The Greens spokesperson for Transport Sam Hibbins MP attended our meeting on 12th October. His written responses to our questions are here The Greens EV policy is here.
The Labor State Government is holding an information session at 2pm on Wednesday 9th November 2022 on the Zero Emissions Vehicle Emerging Technologies (ZEVET) Program. This is effectively the Labor Party EV policy. Program Details here. Reserve a Spot here
Shadow Minister for Climate Change James Newbury has expressed interest but was unable to attend. The Liberal EV policy will be announced closer to the election.
---
---
Survey of Members - August 2022



When asked to rate the importance of Vic Branch activities on a scale of 1-5 (5 is high, 1 is low)
The weighted average score for each activity was:
Member events 4.0
Grass roots activities 4.2
Education 4.2
Advocacy 4.6
Full results here
---
---
Past Event Reports
---
Baw Baw Sustainability Network Presentation
Members from the Vic Branch attended BBSN's EV expo. Victorian Secretary Rick Molloy presented to a full house at Yarragon Uniting Church with his EV for beginners presentation. Members Kathy and Brendan Davies, as well as Ashley Hill attended to exhibit their vehicles.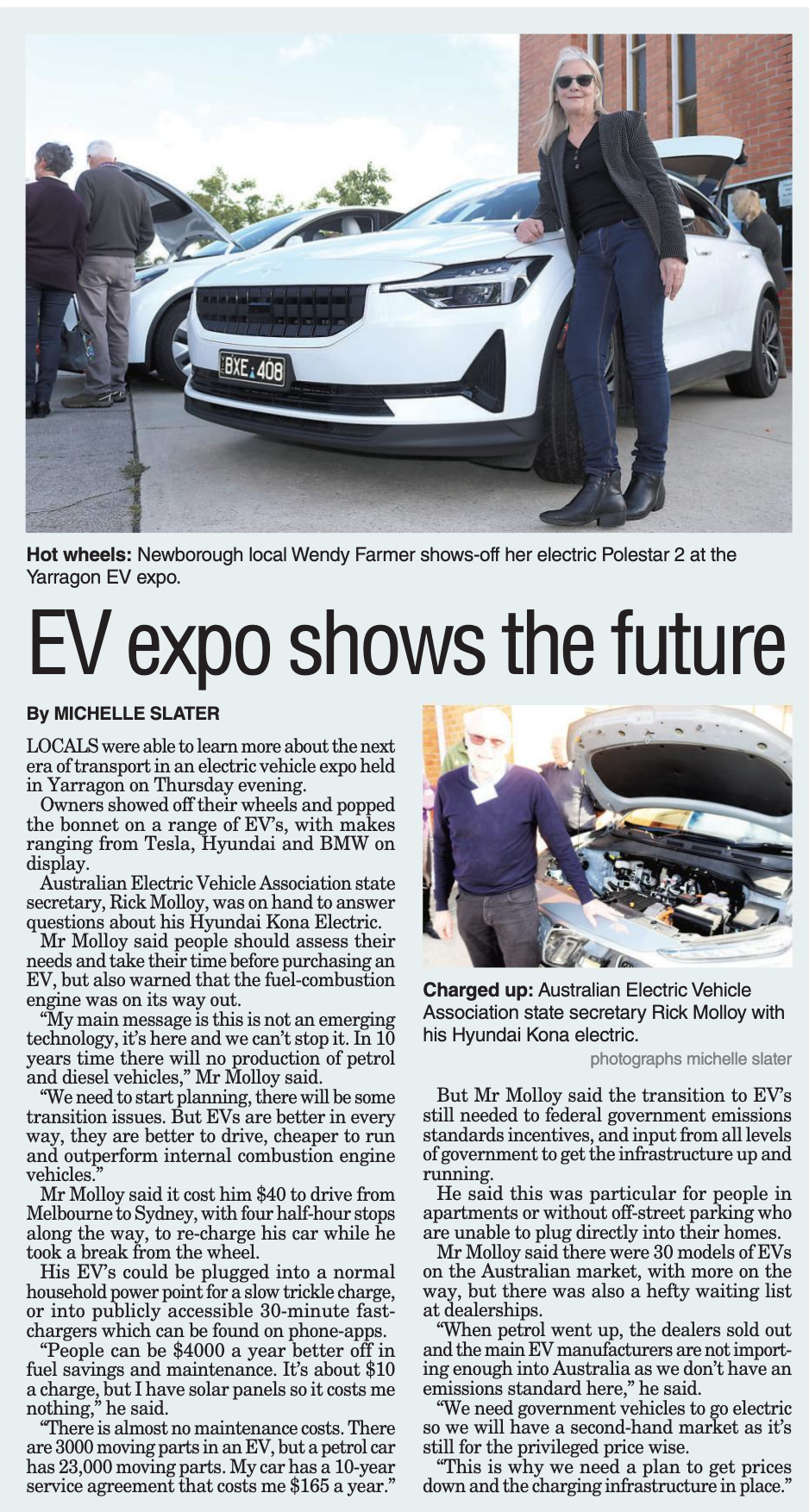 Article from Latrobe Valley Express: https://latrobevalleyexpress.com.au/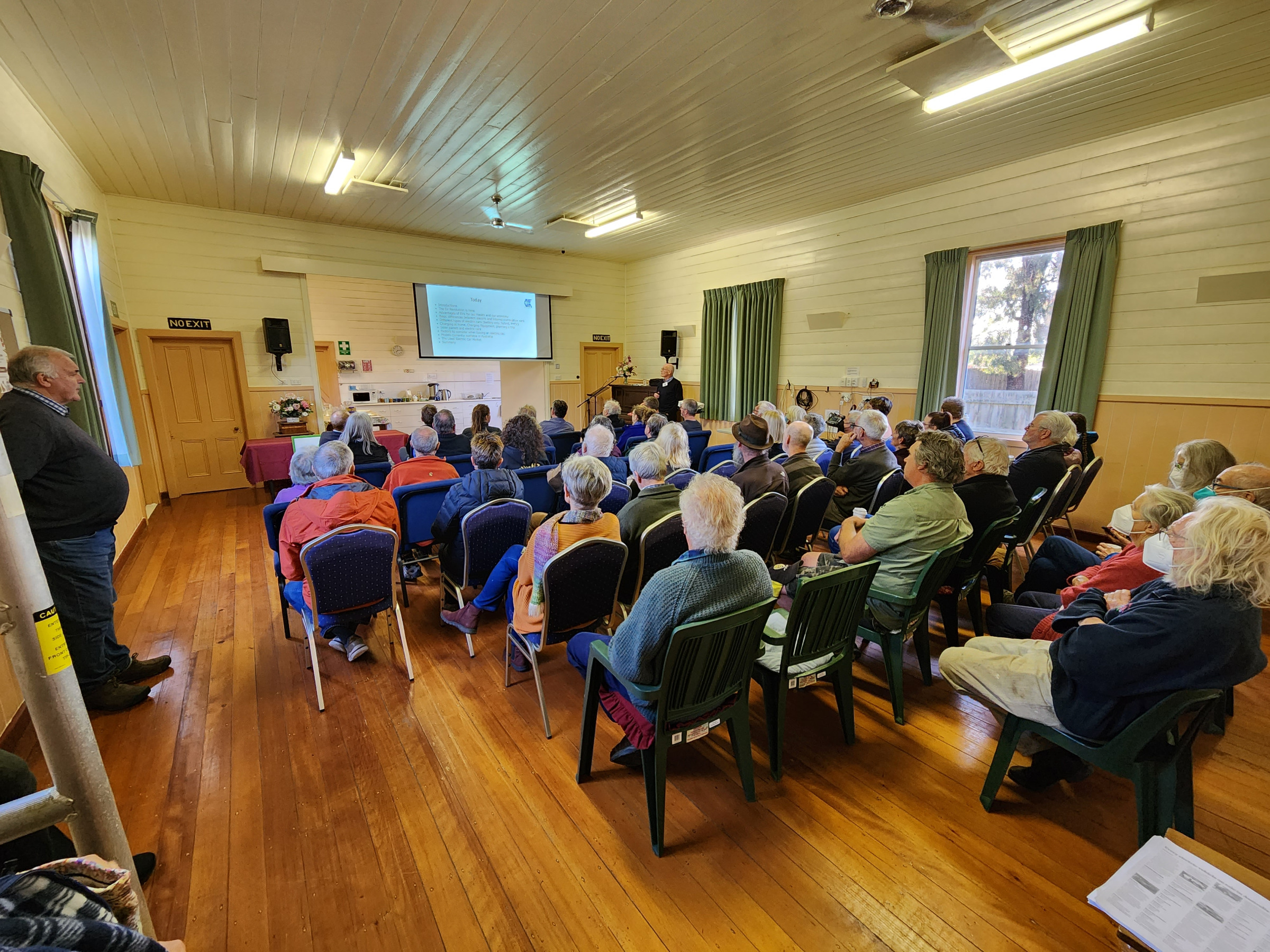 Rick Molloy presenting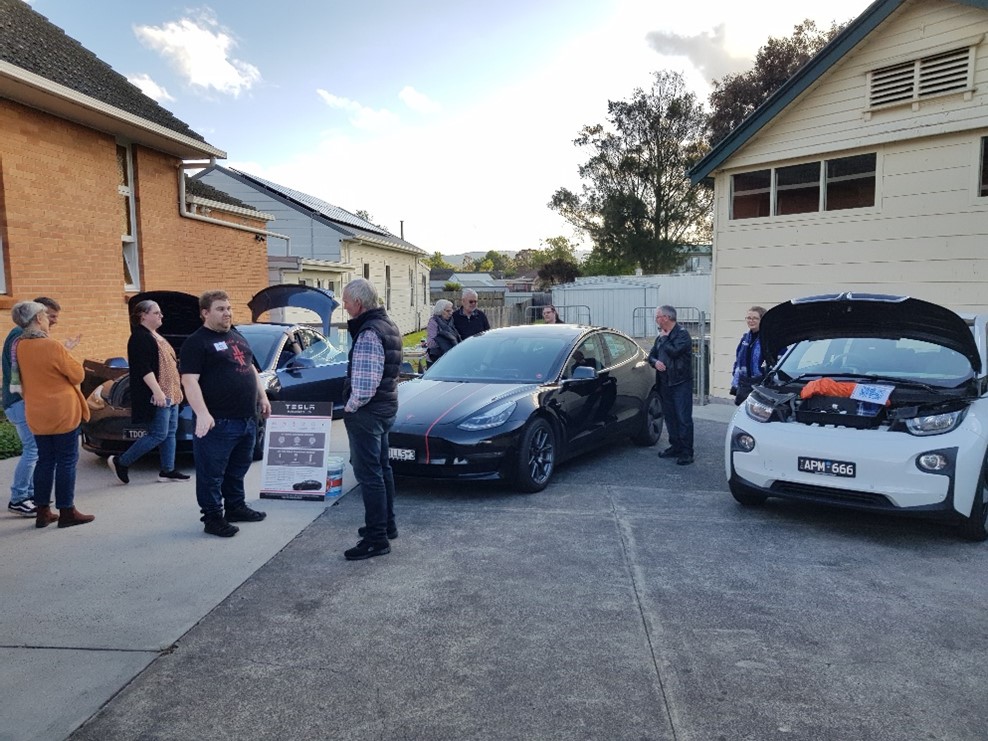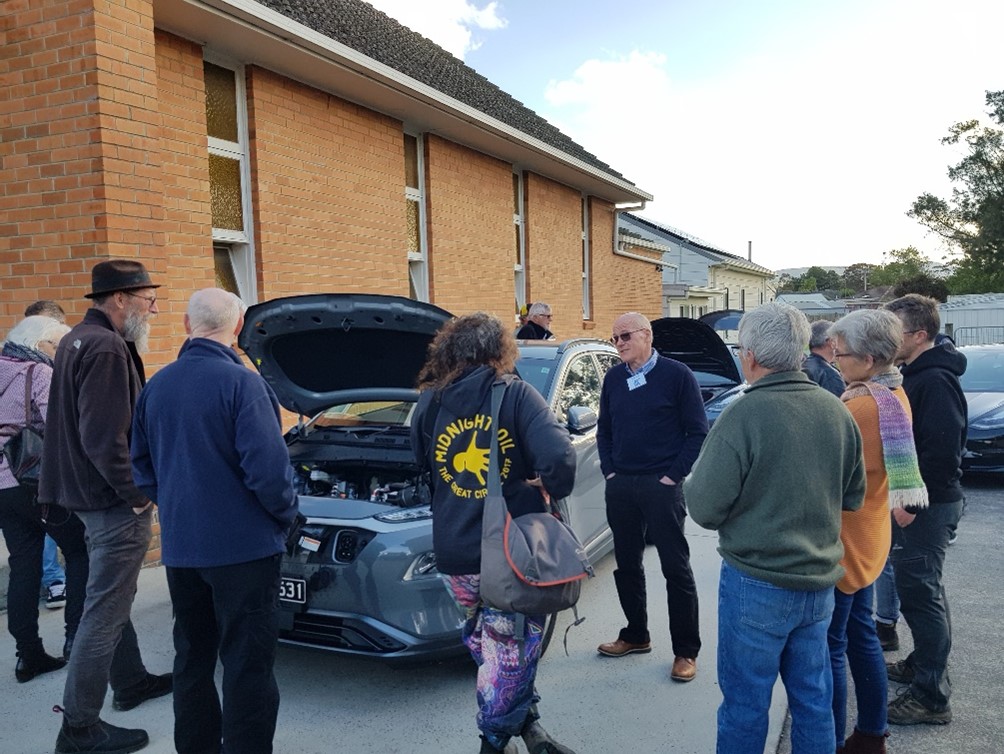 EVs on display
---
---
We also have two Victorian regional sub-branches:
Geelong: meets the first Friday of every month (excluding January).
Ballarat and region: meets the third Tuesday of every second month. (Odd numbered months).
Dates, times and location details can be found here.
Select the VIC member group and then click on Find Events.
We hope to see you at a meeting soon!
Victorian main Branch Information
Our 2021/22 branch committee members are:

Chair: Chris Nash

Vice Chair: Peter Stevens

Treasurer: Tom Singer

Secretary: Rick Molloy


Director Representative on AEVA National Board: Tom Singer

General Committee Members: Riz Akhtar, Abi Bellamkonda, Brendan Davies, Kathy Davies, Dan Edwards, Paul Fallon, James Kirk, Richard Laxton, David Potter, Blake Ramsey, Aldo Vera.

Ballarat and Region Sub-Branch Information
Geelong Sub-Branch Information
Interested in joining AEVA?
To join the AEVA, click on the membership tab above and fill in the details. Once a member you'll get regular email updates.
To be put on our mailing list for non-members please click here
Contact
For more information on the VIC Branch please contact Secretary Rick Molloy - 0407 228 189