Victoria Branch
Welcome to the VIC Branch home page!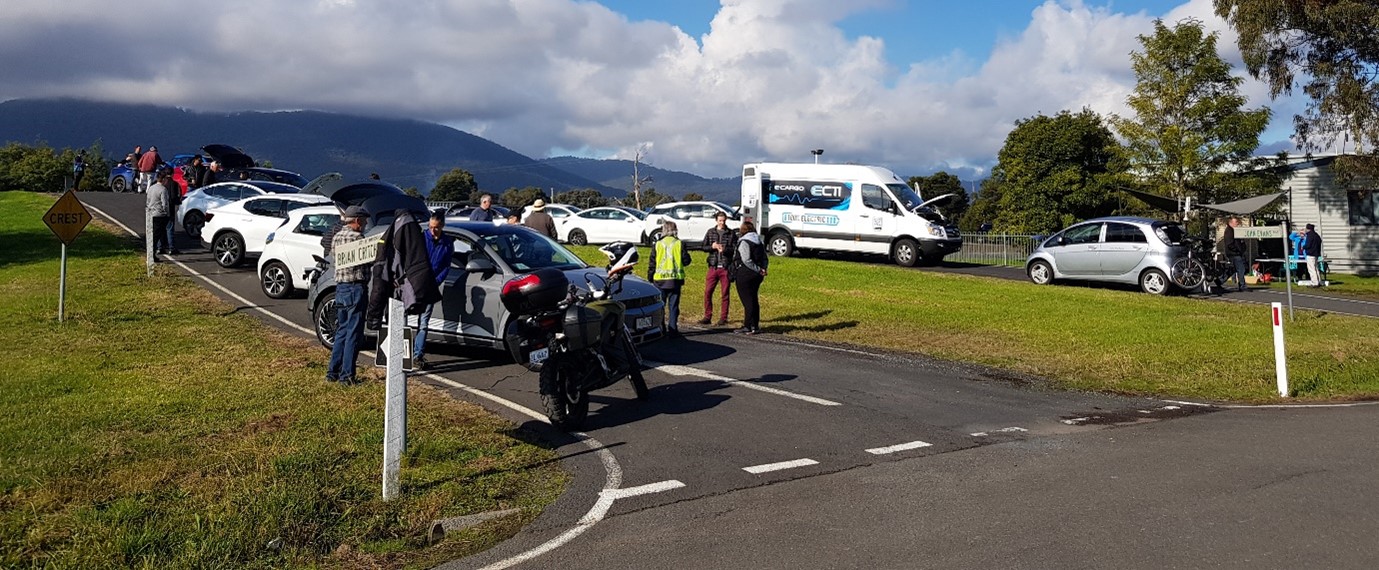 The VIC branch aims to represent the EV interests of individuals and businesses throughout the state and to assist the transition to EVs.

Meetings
---
Unless otherwise notified the Vic Branch holds an information session on the second Wednesday each month at:
Eastern Innovation Business Centre (EI)

5a Hartnett Cl,

Mulgrave VIC 3170
Where possible, we organise a zoom link to enable members to participate remotely.
A notice is usually sent to members and non-members one week prior to the event.
A reminder is then sent one or two days prior including the full agenda, map and zoom link.
Interested in joining AEVA?
To join the AEVA, Membership page here. Once a member you'll get regular email updates.
To be put on our mailing list for non-members please click here
---
Next Meeting
7pm Wednesday 17th May
The Glen
235 Springvale Rd.
Glen Waverley Vic 3150
Unfortunately, the event planned for our members meeting on the 10th May has had to be postponed. The presentation of the Toyota Land Cruiser conversion is now planned for 14th June.
Instead, we are holding a short gathering at the Glen Shopping centre new fast charger on the 17th May at 7pm.
Plugshare link here
The charger is in the B1 car park (yellow colour).
Enter off Snedden Dr at the Target/Woolworths/ALDI entrance, the charging unit is at the first left turn, opposite the travelator lobby.
The Glen Plan Here
Google Map Here
Riz Akhtar will briefly speak about the new Kempower technology involved and the significance of Vicinity Shopping centres planning to install up to 30 similar chargers.
There will also be an opportunity for a "Show and Shine".
At a members event this includes bragging rights.
Seriously, it will be good to informally catch up with everyone and talk about our EV experiences.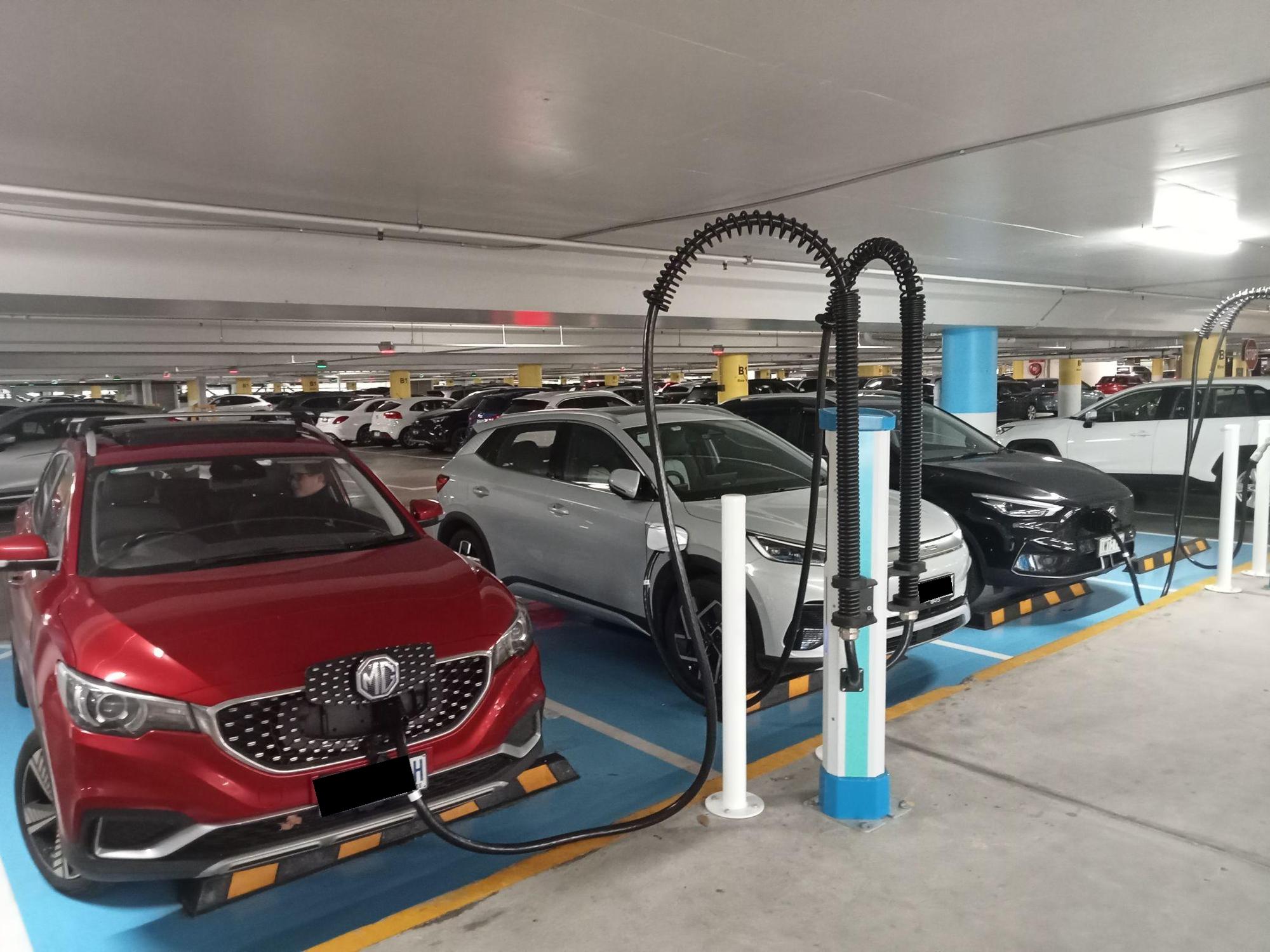 ---
Survey of Members - August 2022



When asked to rate the importance of Vic Branch activities on a scale of 1-5 (5 is high, 1 is low)
The weighted average score for each activity was:
Member events 4.0
Grass roots activities 4.2
Education 4.2
Advocacy 4.6
Full results here
---
---
Past Event Reports
---
Baw Baw Sustainability Network Presentation
Members from the Vic Branch attended BBSN's EV expo. Victorian Secretary Rick Molloy presented to a full house at Yarragon Uniting Church with his EV for beginners presentation. Members Kathy and Brendan Davies, as well as Ashley Hill attended to exhibit their vehicles.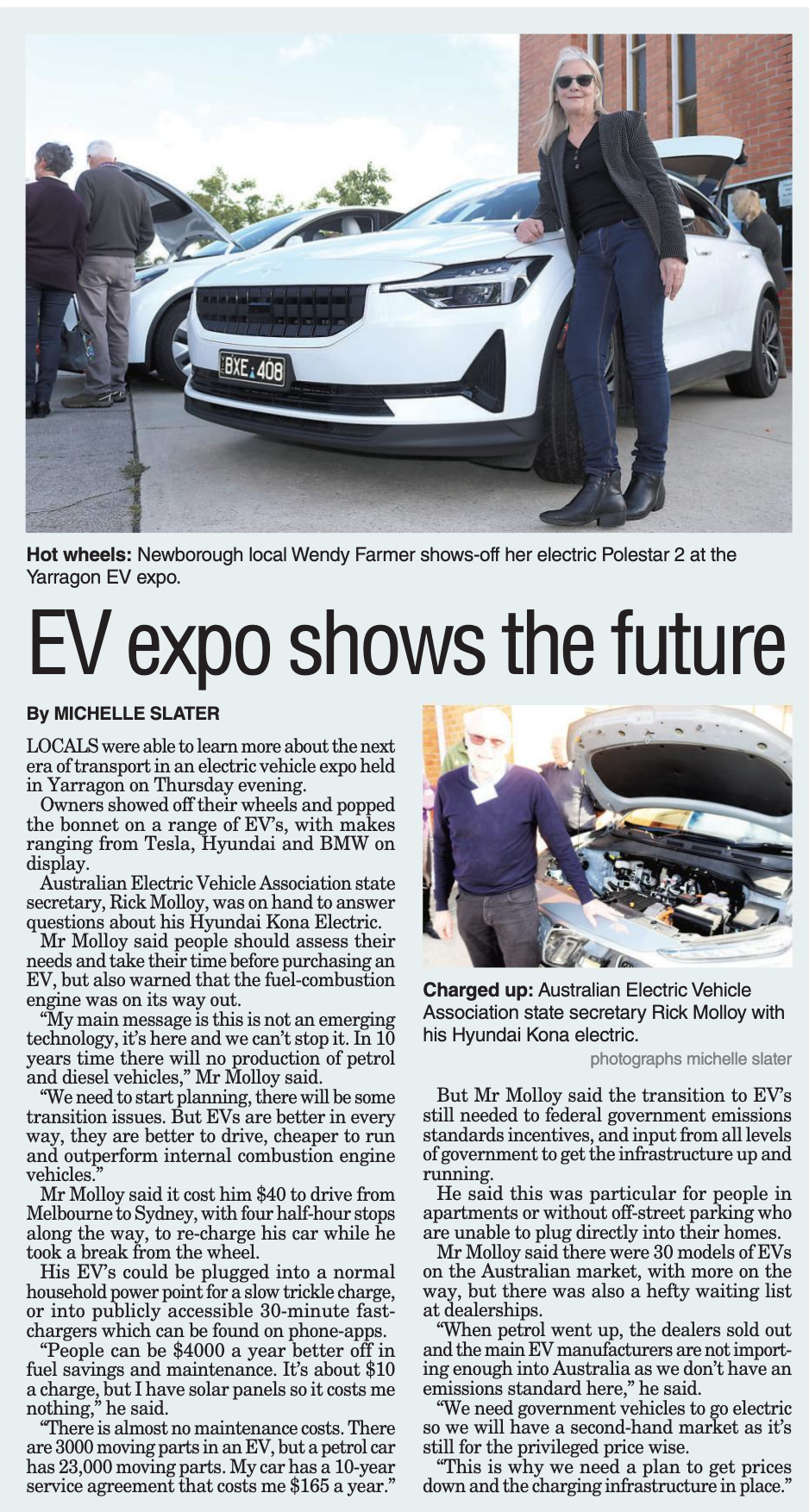 Article from Latrobe Valley Express: https://latrobevalleyexpress.com.au/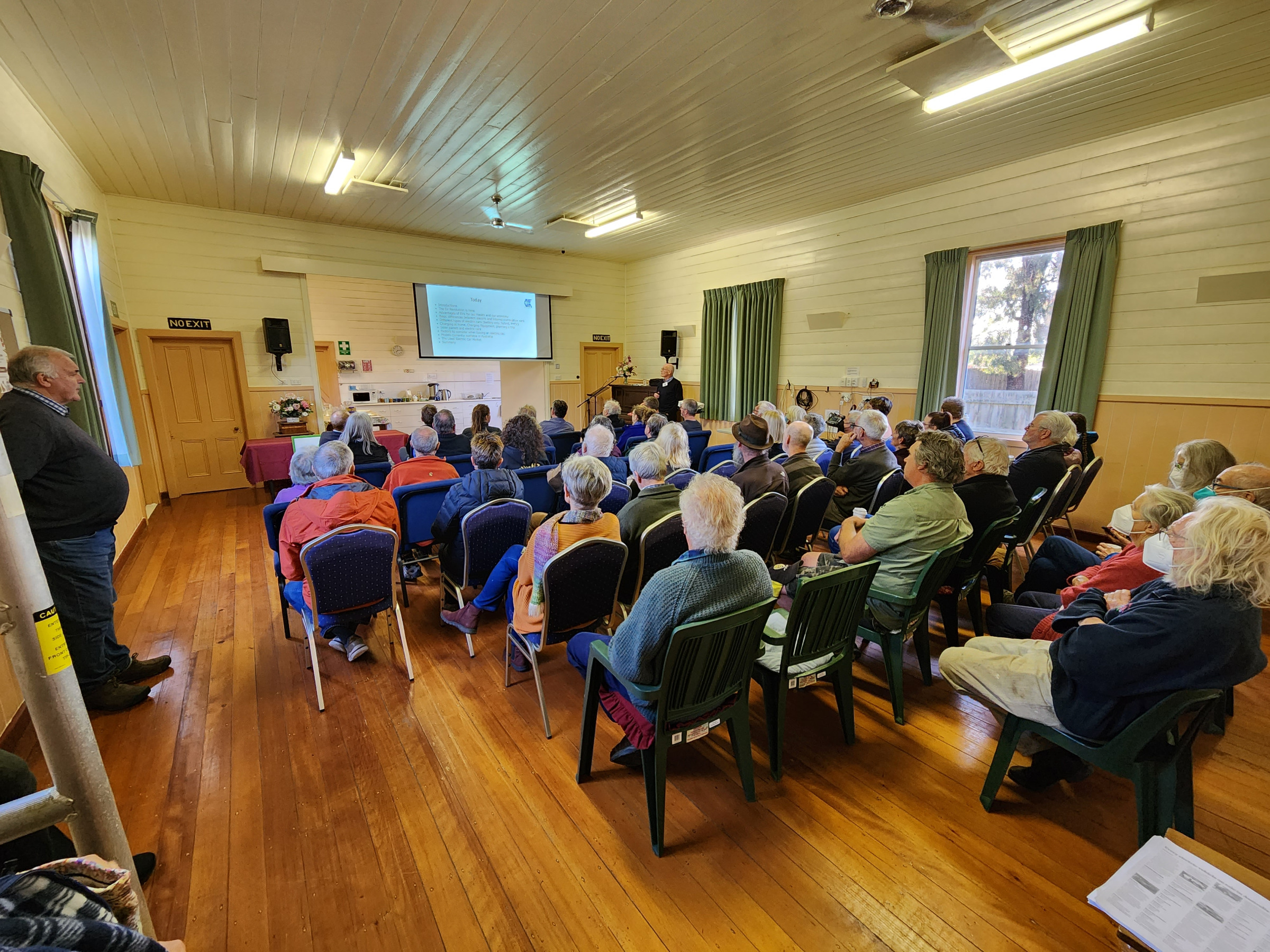 Rick Molloy presenting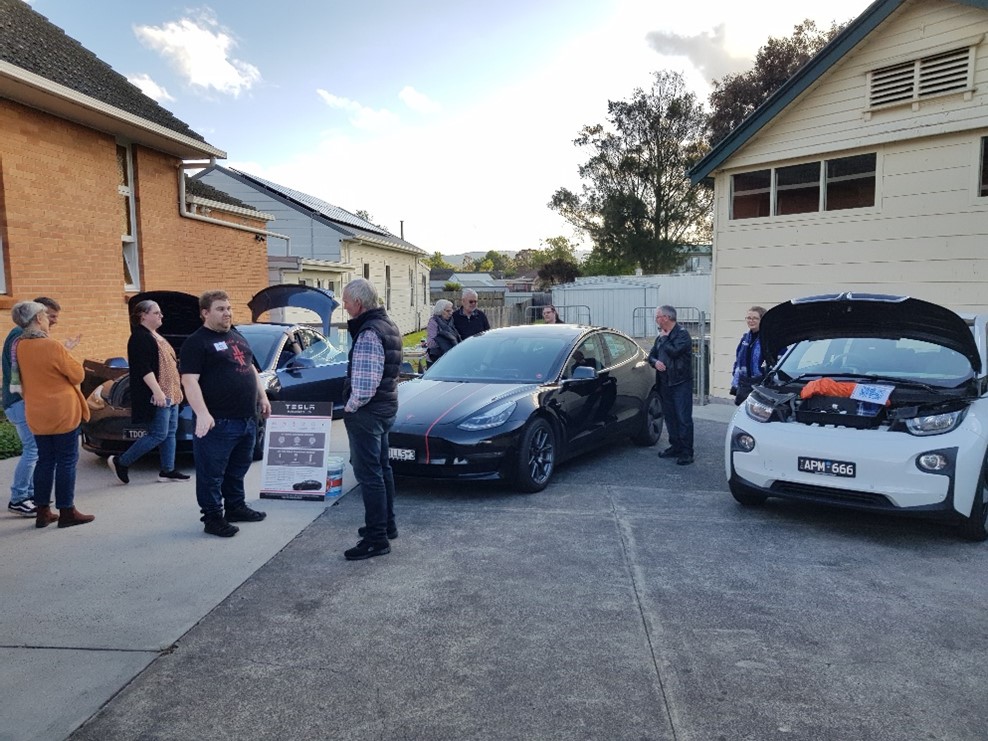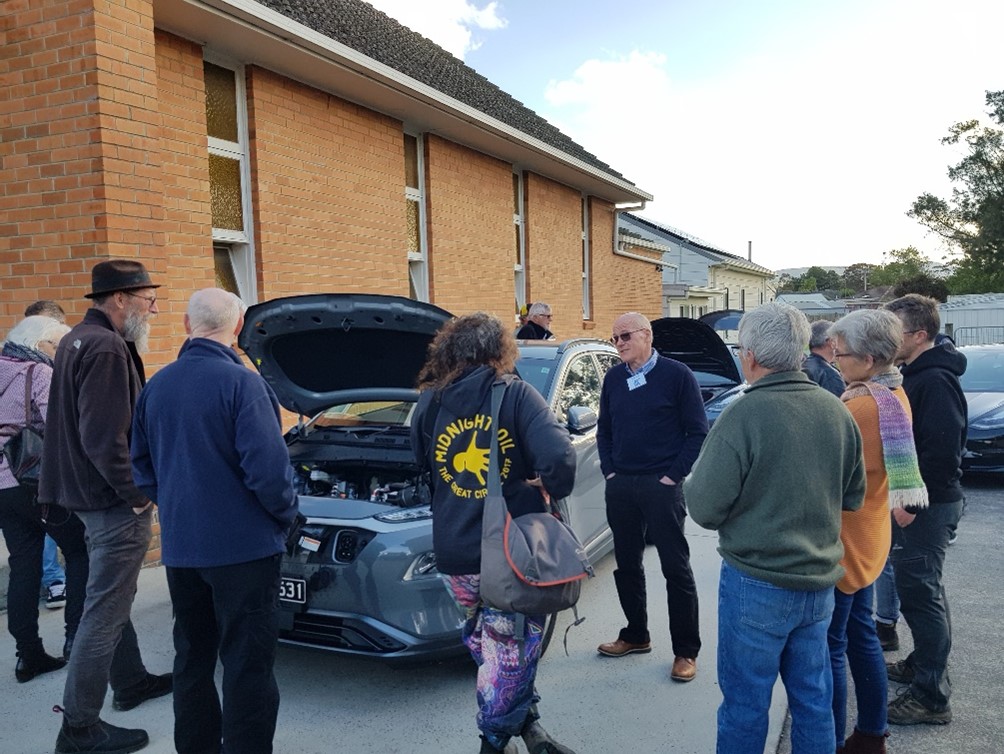 EVs on display
---
---
We also have two Victorian regional sub-branches:
Geelong: meets the first Friday of every month (excluding January).
Ballarat and region: meets the third Tuesday of every second month. (Odd numbered months).
Dates, times and location details can be found here.
Select the VIC member group and then click on Find Events.
We hope to see you at a meeting soon!
Victorian main Branch Information
Our 2022/23 branch committee members are:

Chair: Chris Nash

Vice Chair: Peter Stevens

Treasurer: Tom Singer

Secretary: Rick Molloy


Director Representative on AEVA National Board: Tom Singer

General Committee Members: Riz Akhtar, Abi Bellamkonda, Brendan Davies, Kathy Davies, Dan Edwards, Paul Fallon, James Kirk, Richard Laxton, David Potter, Blake Ramsey, Aldo Vera.

Ballarat and Region Sub-Branch Information
Geelong Sub-Branch Information
Interested in joining AEVA?
To join the AEVA, click on the membership tab above and fill in the details. Once a member you'll get regular email updates.
To be put on our mailing list for non-members please click here
Contact
For more information on the VIC Branch please contact Secretary Rick Molloy - 0407 228 189 secretary@vic.aeva.asn.au