EVENTURE detail
EVENTURE

A key purpose of the event is to reinforce the importance of electrified travel in driving down greenhouse emissions, and other emissions which impact public health.
Registration is as individuals, or as part of a team of up to four. Prominent Canberra sporting bodies and community organisations are being invited to provide several of the teams.
Individuals and teams will traverse the course in travel groups of 8. Group will commence at the course at 15 minute intervals, with the earliest group starting at 9.15am.
Participants will access quiz questions along the route by scanning QR codes.
---
The electric journey outlined below will take about 2 hours. Start/stop locations ( ) and routes [ ] numbers reference the map following.
(1) Start in front of the National Library, where travel groups will be briefed. Groups will then mount Neuron e-scooters and journey east along the lakeside path to the next location. Route [1]
(2) Travion Quay South. Travel groups will board two GoBoats for a twelve minute return journey within East Basin of Lake Burley Griffin. Route [2]
(3) Travion Quay North. The group will be met by EV drivers, who will take them to the next location. Route [3]
(4) Parliament House bus stop. An electric bus will be waiting at the bus stop in Federation Mall to take travel groups to the next location. A promotional banner ("Zero Emissions, Go Electric") will be highly visible. Route [4]
(5) Civic Interchange. Groups will join the light rail at the Alinga Street station and travel to Dickson. Route [5]
(6) Dickson Interchange. Teams will alight the light rail to the east side of Northbourne Ave. Here you will be allocated Neuron e-scooters. Travel south on Northbourne Ave (towards the city) crossing over at the first set of traffic lights. Continue on the Dickson to City bike path (Canberra's first bike path) to Haig park. Route [6]
(7) Turner Scout Hall. Groups will arrive at the Turner Scout Hall which concludes the Electric Travel EVenture. You will receive refreshments, can celebrate your electric journey. Optional Electric Vehicle and e-bike try/rides will be available.
Click here to register.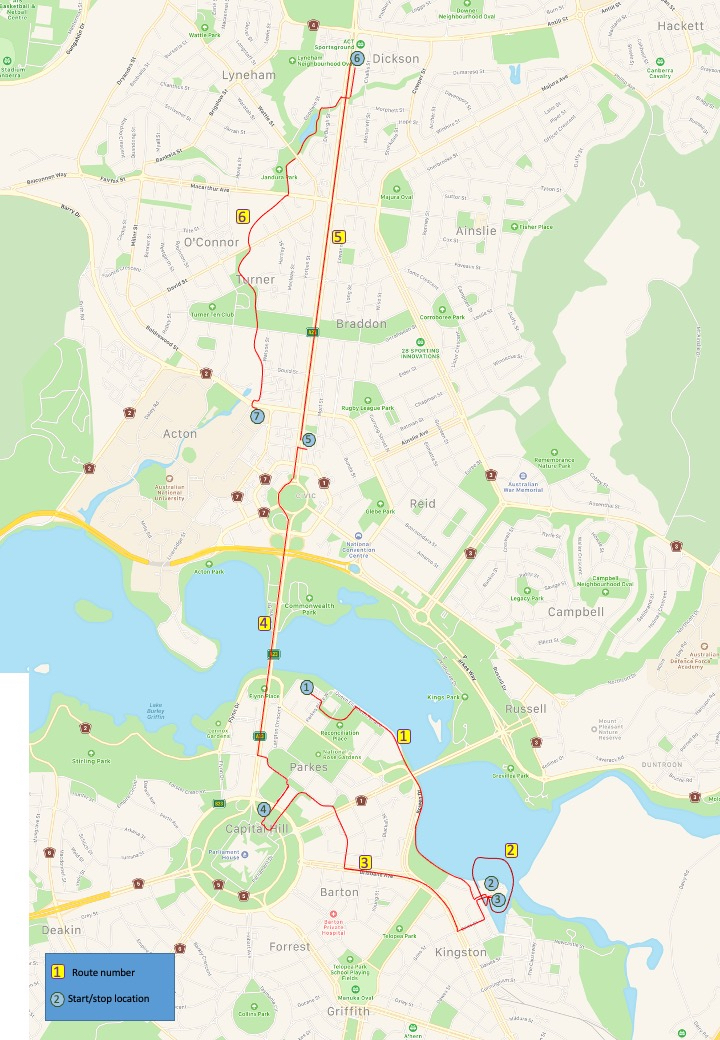 Click here to register.
---
We encourage teams to dress up, wear team colours, have fun and enjoy the day!
What to Bring
* bike helmet optional (for scooters/e-bikes)
* water, snacks
* hat, sunscreen, gloves, rain jacket
* your smart phone, with QR reader capability
* Face masks are to be worn when travelling in private vehicles at all times. Please check prior to the event if they are a mandatory requirement for public transport. Hand sanitiser will be provided at checkpoints.
---
This event is organised and run by the ACT Branch of the Australian Electric Vehicles Association (AEVA) and is proudly sponsored by the ACT Government (through a Community Zero Emissions Grant), Neuron Mobility, Yutong Electric Buses, Transport Canberra, and Canberra Metro Operations.
For further information please contact: secretary [at] act.aeva.asn.au
If you or anyone in your family or close contacts, is or has been ill, please be COVID safe, and stay home. This event is a COVID safe event in line with the ACT COVID Safe Events Protocols. For more information www.covid19.act.gov.au
In the case of severe weather, the event may not proceed.
---
CONDITIONS:
Registration for this event comes with the following conditions:
* All team members must ride an e-scooter
* All team members must travel via GoBoat, and to sign the GoBoat waiver
* All team members must agree to the AEVA event indemnity
* All Team members must download and use the Neuron Mobility Scooters app (scooters will be free to use for the event)
* Participants are to obey traffic laws, keep the left on footpaths and cycleways, travel in designated bike lanes and respect members of the public at all times.
* Participants under 18 must be supervised by an adult at all times.