Kim's BMW 316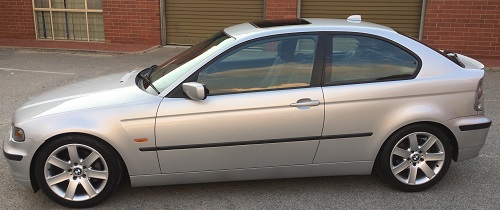 Vehicle Specifications:
Vehicle: 2002 BMW 316i E46 3 door hatch
Owner: Kim Cramer
Builder: A younger Kim Cramer with less grey hair
Battery: 26 kWh, 96 LFP Enerdel pouch batteries - nominal 380 V DC system
Motor: UQM Powerphase 75 – 75 kW / 240 Nm
Controller: UQM, water cooled
Charging: Brusa NLG 5
Kerb Weight: 1300 kg
Driving Range: 150 km
Total Cost: Deliberately ripped up the receipts when it got over $30K :)
'Bobbie' is a short wheelbase, E46 body 2002 3 series BMW. A nice little around town car and nippy to drive. It has a 75kw 3 phase UQM water cooled motor and inverter which closely matches the original vehicle specs. A custom built reduction gear box connects via the original tailshaft to the differential and rear wheels. The vehicle has full regen braking activated by the brake pedal and driver adjustable.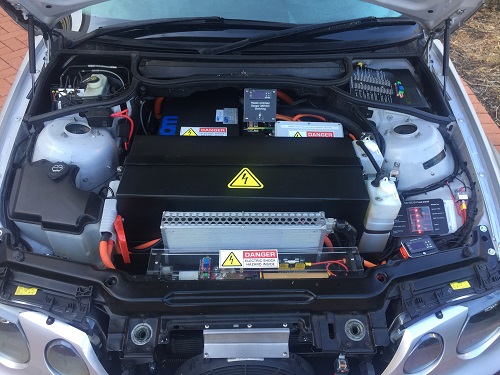 Battery is a 96-cell, 4 module lithium-ion pouch battery pack manufactured by Enerdel (USA). Estimated capacity 26 kWh. Maximum range ~150 km. BMS is 8 x Zeva BMSv3 modules each monitoring and balancing voltage and temperatures of 12 cells and displaying on an EVMS3 monitor in the vehicle cabin. Also fitted is an electric power steering pump, vacuum pump, air conditioning compressor and DCDC converter.

This labour of love is for sale to a genuine EV enthusiast who would like an around town daily driver and can handle a bit of tech work.

Contact owner, this could be yours for way less hassle & cost than starting a new conversion.

Kim Cramer
Perth
WA
Australia


Tag(s): Conversionbook