Strong interest in EVs at Shannons Wheels
AEVA ACT displayed 13 cars at Shannons Wheels, Queanbeyan Showground, on 6 March 2022. The display attracted a large number of visitors who engaged in almost non-stop conversation with the EV owners for 3.5 hours.
The cars included Tesla Model 3s, a Tesla Model X, Nissan Leafs, a Hyundai Kona, a Hyundai Ioniq 2018, a Mini Electric, an MG ZS EV, a Honda E (imported from the UK) and a Toyota Prius Prime PHEV (imported from NZ).
This year Shannons Wheels raised funds for two charities: the Stroke Foundation and Technology for the Ageing and Disabled. The funds were raised by gold coin donations as a way of selecting the "Car of the Show".
Support from AEVA members resulted in one of the EVs being chosen as the Car of the Show. This car, displayed by John Smith, is a Tesla Model 3 fitted with hand controls purchased from Fadiel Italiana, and installed by One M Engineering in Queanbeyan.
John contracted polio at a very young age, and drives his Model 3 using the hand controls, accompanied by a foldup wheelchair that fits easily in the boot. Below is a photo of John and the official party.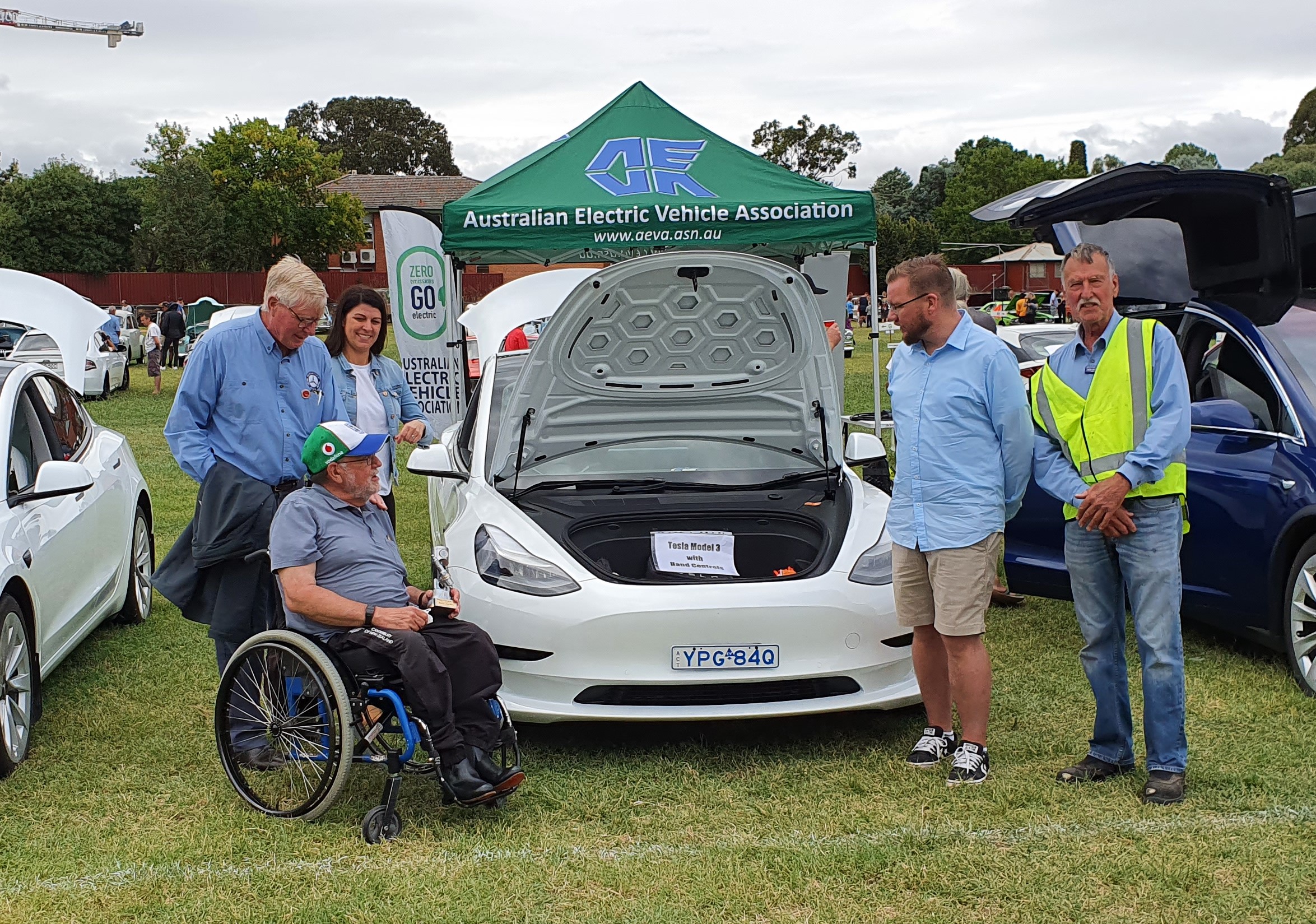 Featured in the above photo are (left to right): Richard Jackson (President of the Council of ACT Motor Clubs), Kathy Winchester (wife of Mayor Winchester), John Smith, John's Tesla Model 3, Kenrick Winchester (Mayor of Queanbeyan/Palerang) and Bob Alexander (Canberra antique and classic motor club Wheels coordinator).
More photos of the event: