Description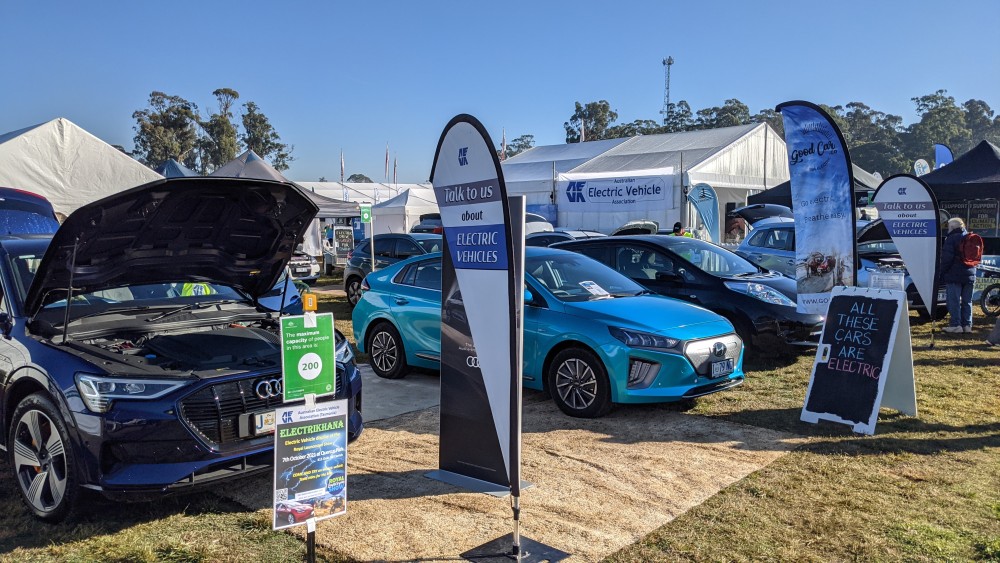 Agfest is a large agricultural show in central Tasmania.
This year AEVA Tas hosted an EV Hub on Ninth Avenue. We rolled out the carpet for the following vehicles:
Tesla Model 3
Mitsubish Outlander (2021 & 2014 models)
Nissan Leaf (30 kWh, 40 kWh & 60 kWh models)
Hyundai Kona
Hyundai Ioniq
BMW i3
Audi e-Tron
Subaru Brumby (conversion)
Toyota Echo (conversion)
Suzuki Mighty Boy (conversion)
Ubco farm bikes
We also displayed an array of garden maintenance equipment, a model F1 race car and a remote-controlled toy excavator. Plus we had our display panels, fact sheets and lots of people to talk to.
At one stage someone went over to the Zippi Bikes site and convinced them that one of their kids' bikes would be great on our stand! So we had one of those for a while as well.
A big thank you to these businesses and organisations also displayed at our site:
Farmers for Climate Action
The Good Car Company
I Want Energy
Evie Networks
Electric Highway Tasmania
Bennett's Petroleum
Tas Networks
Audi
Launceston Mitsubishi
Motors
More photos can be found here.
A behind the scenes video can be found here.