Wevolt

Wevolt - leading provider of EV charging software
After Wevolt's founder excitedly purchased his first electric vehicle, he quickly became frustrated by juggling multiple charging apps and the lack of public charging infrastructure. There needed to be a better charging process….and Wevolt was born.
Wevolt provides revolutionary electric vehicle charging software for the EV community that significantly improves the EV charging experience and makes it easy for charger owners to share and monetise their chargers.
Wevolt's Australian-developed software consists of the Wevolt App (for EV Drivers) and connected Wevolt Hub (for Charge Point Owners and Managers). The App makes it easy for drivers to locate and use chargers while the Hub enables charger owners and managers to earn income from sharing chargers.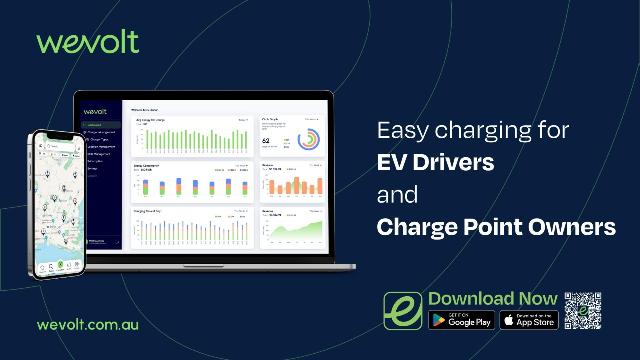 Wevolt App
With the Wevolt App EV Drivers can:
Find nearby chargers
Locate an AC or DC charger
Use filters to show chargers with specific features
View important information about the charger, such as opening hours
See amenities at the charging location
Drivers using chargers connected to the Wevolt network can also access:
Real-time availability of Wevolt-powered chargers
Detailed pricing information
Easy payment through the Wevolt App or Wevolt RFID card
Wevolt Hub
The Wevolt Hub is connected to the Wevolt App and is also a web-based platform. The Hub is a Charge Point Management System which enables Charge Point Owners and Managers to easily share and monetise their chargers. It is suitable for a single home charger or for large charging networks, and is the only platform in Australia that provides a self-service function for monetising chargers, real-time payments, and provides for one AC charger to be onboarded to the Wevolt network for free. Plus, by enabling charger sharing, Wevolt is helping to increase availability of charging stations.
About Wevolt
Wevolt is an Australian tech company based in Perth WA. The Wevolt App has facilitated thousands of charging sessions and Wevolt-powered chargers can be found in almost every Australian state and territory.
Wevolt is a preferred EV charging software and EV infrastructure turnkey provider for the WA Government's Charge Up Grant, and is the charging software used by the University of Western Australia's Renewable Energy Vehicle Project.
Download the Wevolt App (with connected Wevolt Hub) from the App Store or Google Play.
Source:

Wevolt

Region:

WA
Tom Kerr-Sheppard
Level 3
251 Adelaide Terrace
Perth
WA
6000
Australia
(040) 719-2520

https://wevolt.com.au/