VW Kombi 'Splitty"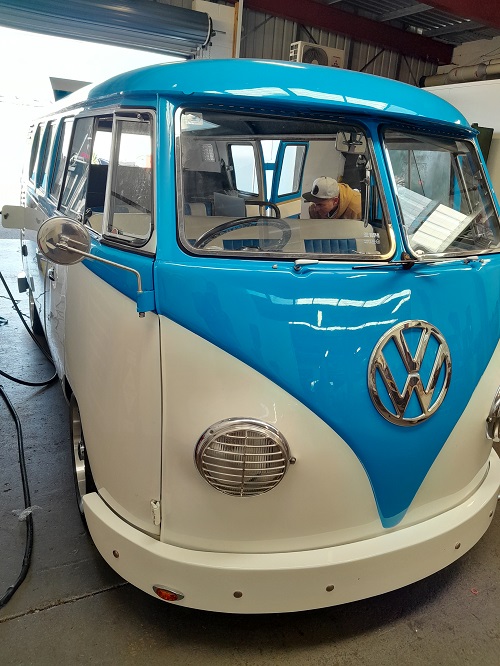 Vehicle Specifications:
Vehicle: 1956 Split window Kombi
Owner: Evolve Scooters
Builder: Oz Electric Vehicles
Battery: 70 kWh (from a wrecked Tesla S)
Motor: Hyper9 144 Volt
Controller: H9 supplied with motor
Charging: CCS2 DC, 3 Phase Type-2 AC
Kerb Weight: 1350 kg (estimate)
Driving Range: ~300 km
Total Cost: EV Kit $85,000 + labour
This split window Kombi has a Hyper 9 AC motor, supplied controller and sports a 70 kWh Tesla Model S battery pack. It's a bit of an unusual configuration, as the owner wanted batteries under passenger rear seats. This was problematic as the seat frames had to form battery boxes, and be engineered to restrain the occupants while seated plus the substantial battery weights.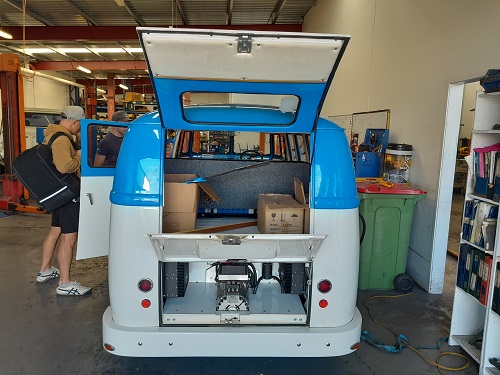 This was achieved with the help of some Brisbane based engineering students. It consists of two battery packs, theredore needed 2 on-board battery chargers (3 phase, 11 kW), two battery management systsms. We use and recommend Orion, as we can get Type 2 plugs to communicate with the charge points nowadays. As well as this we added air conditioning all hidden inside the rear. The car has a 6 speed specially built manual gearbox, along with 4 wheel disc brakes and power steering.

Brisbane
QLD
Australia
www.ozelectricvehicles.com.au

Tag(s): Conversionbook