Voltron Evo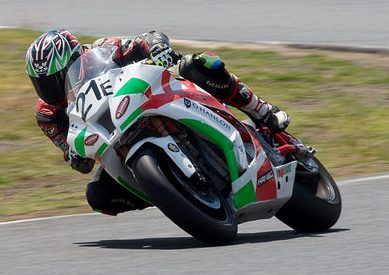 Specifications (2016-2023):
Chassis: Fully custom fabrication from Framecrafters, USA
Battery 1: 6 kWh (621 V nominal, 10 Ah, Li-Polymer pouch cells)
Battery 2: 12 kWh (621 V nominal, 20 Ah, Molicell NMC cylindrical cells)
Motor: Evo Electric AFM140-4
Controller: Rinehart (Cascadia) Motion PM150DZ
Power: 175 kW (dyno confirmed)
Weight: 214 kg (6 kWh) or 230 kg (12 kWh)
Range: One race, or about 10-20 km. 150 km if you did the speed limit.
The idea for Voltron Evo came along when Chris had just finished building his first electric motorbike, Voltron, from an RG250 chassis and a pair of Indian DC motors. The motivation was to build a reliable, powerful machine which could compete with petrol bikes at the racetrack. Design started in 2011, but the bike turned a wheel for the first time in 2014.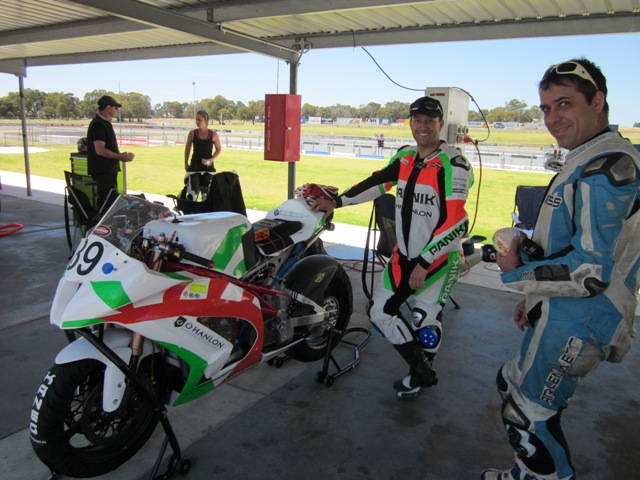 Danny Pottage with Voltron Evo at Barbagallo Raceway.
Voltron Evo was piloted by Perth road racer, Danny Pottage (aka Pottz) who took the bike with virtually no baseline suspension settings and set about making it remotely rideable. He took first place in all 4 races at Queensland Raceway in it's inaugural eFX competition against several other electric motorcycles, including bikes built by Danny Ripperton, Jon Eggenhuzien and the team at Varley Engineering.

Voltron was further improved by reducing the battery weight (down from 9 kWh to just 6 kWh - enough to complete a race and no more!) front suspension upgrades, a new rear swingarm so it could accommodate a larger tyre and a switch which disabled the front brake sensor - allowing Danny to do massive burnouts!

The bike was raced again in 2015 by Pottz, cleaning up the series. In 2016, another Perth racer, Tim Boujos took the bars and dominated the first two rounds at Mallala (SA) and Queensland Raceway, but broke his foot in another racing class betweein rounds. Replacement rider, Tyron Van Vuuren keenly stepped up, demonstrating his skills and comfort with the bike in spectacular fashion. At the final round of eFXC in Sydney, the electric class was wound up citing a lack of entries, and the bike has remained dormant.

In 2023, a new battery is under construction, sporting 12 kWh of energy and a similar weight to the 6 kWh battery it dominated racetracks with. Unfortunately, it will be down on power; just a mere 140 kW peak. We'll keep you posted.

AEVA Forum build log: https://www.forums.aeva.asn.au/viewtopic.php?p=51850#p51850

Endless-Shere Forum build log (the comprehensive account): https://endless-sphere.com/sphere/threads/jonescgs-new-electric-racebike-build-thread.29916/

Chris Jones
Perth
Australia

https://forums.aeva.asn.au/viewtopic.php?t=3553

Tag(s): Conversionbook