Hunter's Daelim VR125 EV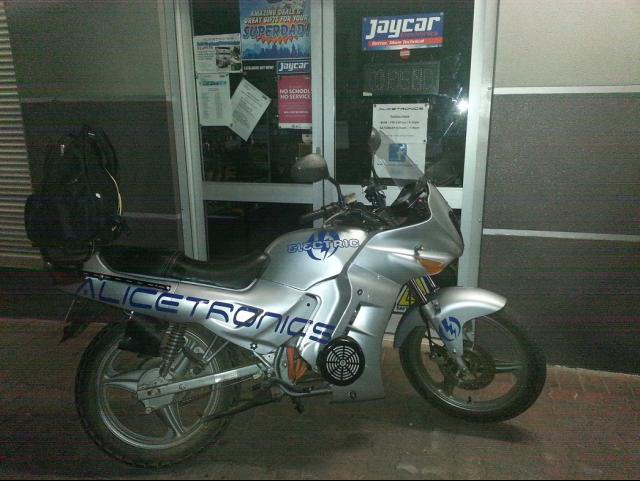 Vehicle specifications:
Vehicle: 1999 Daelim VR125 motorcycle
Owner: Hunter Murray
Builder: Hunter Murray
Battery: 72 V 20 Ah (originally sealed lead acid, now Li-polymer)
Motor: HPEVS AC-15 3-Phase AC motor
Power: Peak power 20 kW, Peak torque 52 Nm
Controller: Curtis 1236-3601 48-80 V (using 72 V config). 300A peak
Charging: JCKE7206 550 W
Kerb Weight: 160 kg
Driving Range: 30 km
Total Cost: $4500
Overall pretty chuffed to have the First Road Registered EV Bike in the Northern Territory (that motor registry knows of anyway!) And I'm now enjoying the ride!
I Painted it up to a single colour and get some suitable propaganda stuck to it! Designed with an ultra capacitor bank between the main sealed lead acid batteries (SLA) and the controller to buffer the high current needed for acceleration. The SLAs were later upgraded to Li-Polymer cells.
It has a current limiting CCT to regulate to no more than 100 A to save the SLA's from meltdown but currently using a limiting resister cct (gets hot thus inefficient) but still have the high current for quick bursts of acceleration when needed...the Caps used were Maxwell 3000F 2.7V (thus needed to fit 30 of these to get over 80 V - see photos for this magic act...!)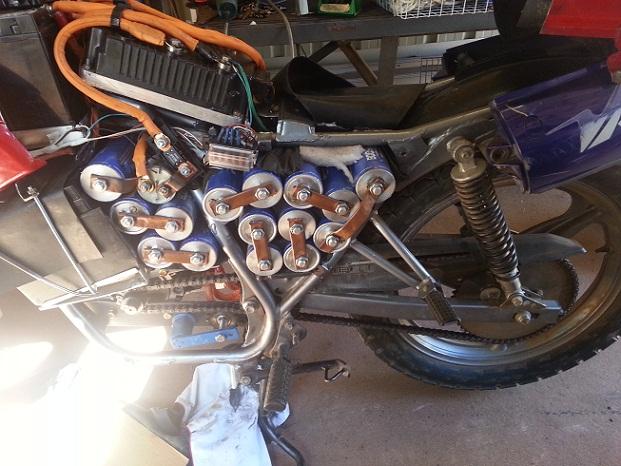 Caps were recycled from a electric bus. Using amp and volt meters on each bank to monitor this seems to be working as designed with just a small limiting resister (used out of a high current ammeter and 2 x 70 A blocking diodes to stop the flow back to the batteries.

The idea of blocking the regenerative back to the SLA's is that the caps can capture this Kinetic Energy with much or efficiency and as when you break (regen) usually the next thing you do is take off again - so why not use the CAPS to so this?

Hunter Murray
Alice Springs
NT
Australia

outbackev.com.au

Tag(s): Conversionbook