Living in Harvey, Western Australia, we needed a vehicle with enough range that return trips to Perth were not a problem (~280 km) or the odd trip to Albany, some 330 km away. We spent about six months reviewing the Kona Electric before our purchase in April 2019. The Kona EV has been available for years overseas, so there were plenty of reviews on Youtube which gave me information from happy owners and reviewers.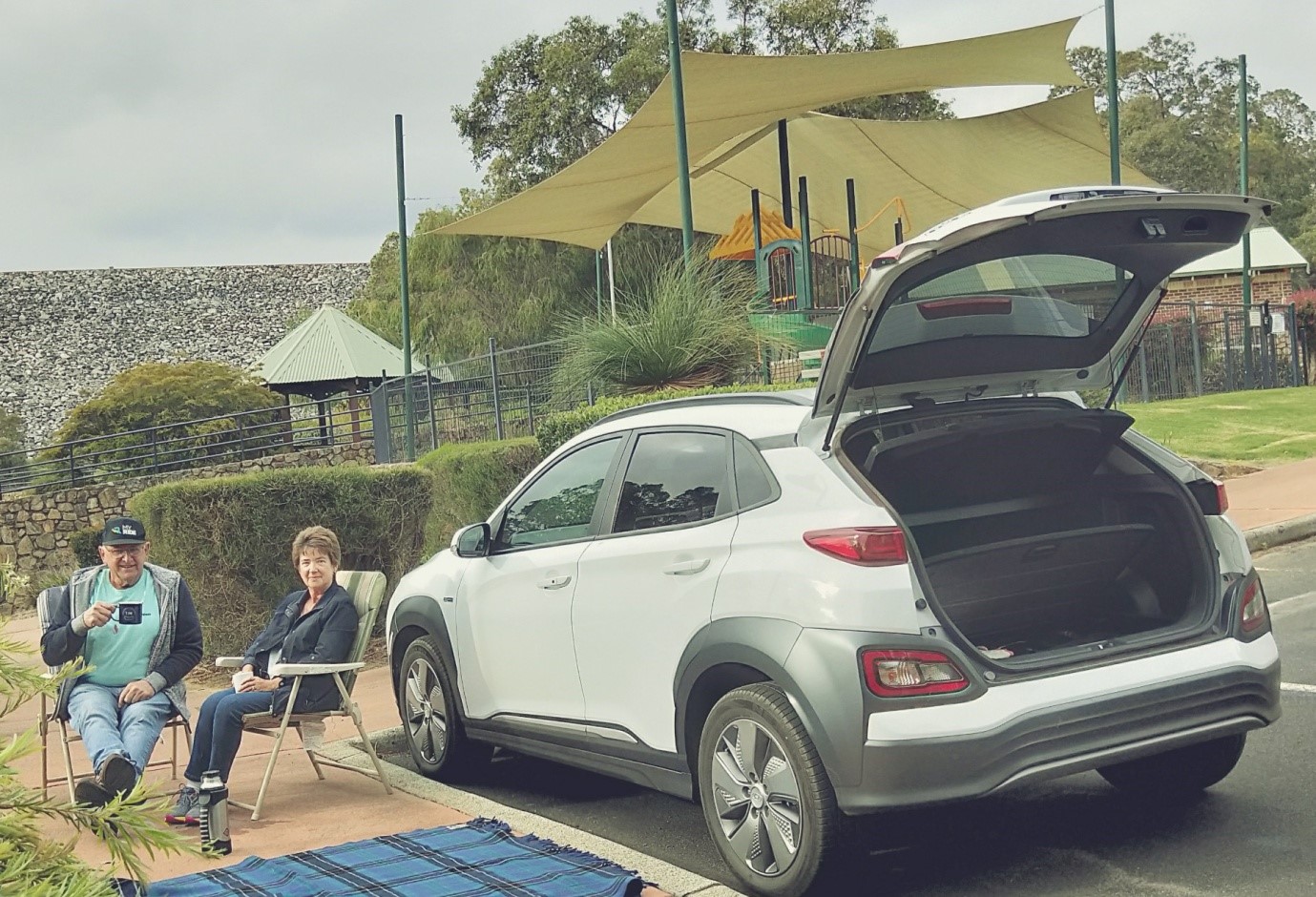 Tim and Jenny enjoy a cuppa at the Harvey Dam, WA.
Having enjoyed driving Hyundai vehicles for over 10 years, I knew they made reliable, good-value cars. Although the Kona Electric cost over four times more than I've ever spent on a car before, I convinced my wife it was the affordable and sustainable thing to do reducing our reliance on fossil fuel. Travelling 30,000 km a year over 10 years we will save over $30,000 on petrol, plus lots of CO2.
Our 5.6 kW solar power system was installed six years ago, as well as a heat-pump hot water system on a solar timer. This allowed us to disconnect from the natural gas network altogether. However we still sent a lot of power back to the grid, and are only paid 7 c/kWh. The Kona EV's 64 kWh battery was therefore a great energy storage solution.
For the first month we were able to charge with the 10 amp EVSE that comes with the vehicle using a standard household socket. At 2.3 kW it adds approximately 15 km per hour. Eventually we installed a Zappy charger, capable of 7 kW. A full charge from the grid costs around $21, and allows us to travel around 400 km at highway speeds. Zappy chargers are produced in the UK and have a good reputation for being flexible enough to charge fast at 7 kW, or only with excess solar power that would have otherwise gone to the grid. Our energy retailer Synergy has an EV tariff which combined with solar reduces costs considerably.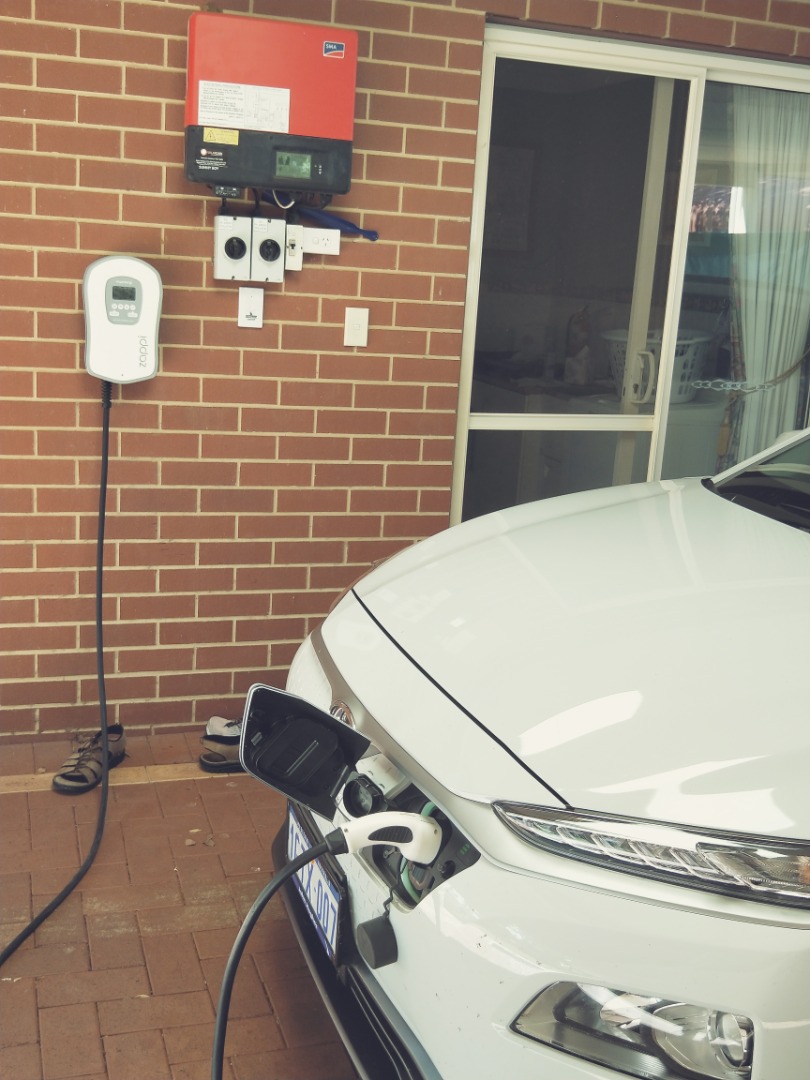 The Zappi EVSE makes sure only excess solar energy is diverted to the car
Our longest day trip so far was 708 km; Harvey to Kalbarri. Stopping in Jurien Bay (365 km) we used the 40 kW DC charger - many thanks to Jon and Wade for their progressive thinking. Lunch followed by a pleasant walk on the jetty saw the battery filled in two hours. On to Kalbarri (343 km) we arrived with 70 km range remaining. Returning home we were going into a strong headwind which reduced our range but slowing down from 110 km/h improved the economy. The Kona EV gives you plenty of power consumption and range information so no range anxiety to mention.
Northampton Shire was not charging us for the use of the three phase socket, although I was happy to pay. Kalbarri is transitioning to renewable power with wind, solar and a big battery which will soon make the trip even more sustainable in the future. More planning is required when travelling in an EV but this will get easier as infrastructure improves.
We have now completed 30,500 km in 12 months, spending only around $500 on electricity and $165 for the 15000 km service which includes roadside assistance for a year. We are due for another $165 service but Hyundai is giving extensions to people who can't travel due to Coronavirus restrictions. Each month we receive a report on the 10 main car systems to show they're all working correctly with no faults. Every trip is tracked giving information which can be accessed from your phone, helping you develop more efficient driving habits if so inclined.
Albany is well within range for us but once there community charging is limited. We normally just charge using a standard 10 amp power point where we're staying with solar power when possible.
The new 50 kW DC fast charger to be installed in Lake Grace as part of the Perth to Esperance Electric Highway will be a great asset, allowing me to travel from Harvey to Esperance with only one stop at Lake Grace. It is funded by individuals through the AEVA, because government and business have been slow to respond to required infrastructure.
My wife and I are very happy with the Kona Electric and expect it will still be going strong when 10 years old. The power of the 150 kW motor and all the technology makes it a joy to drive. Looking after the battery is not too difficult for us; we keep it between 20 and 80 % charge and park in the shade when possible to keep it cooler. Long trips we charge to 100% just prior to leaving and charge above 20% on arrival at our destination.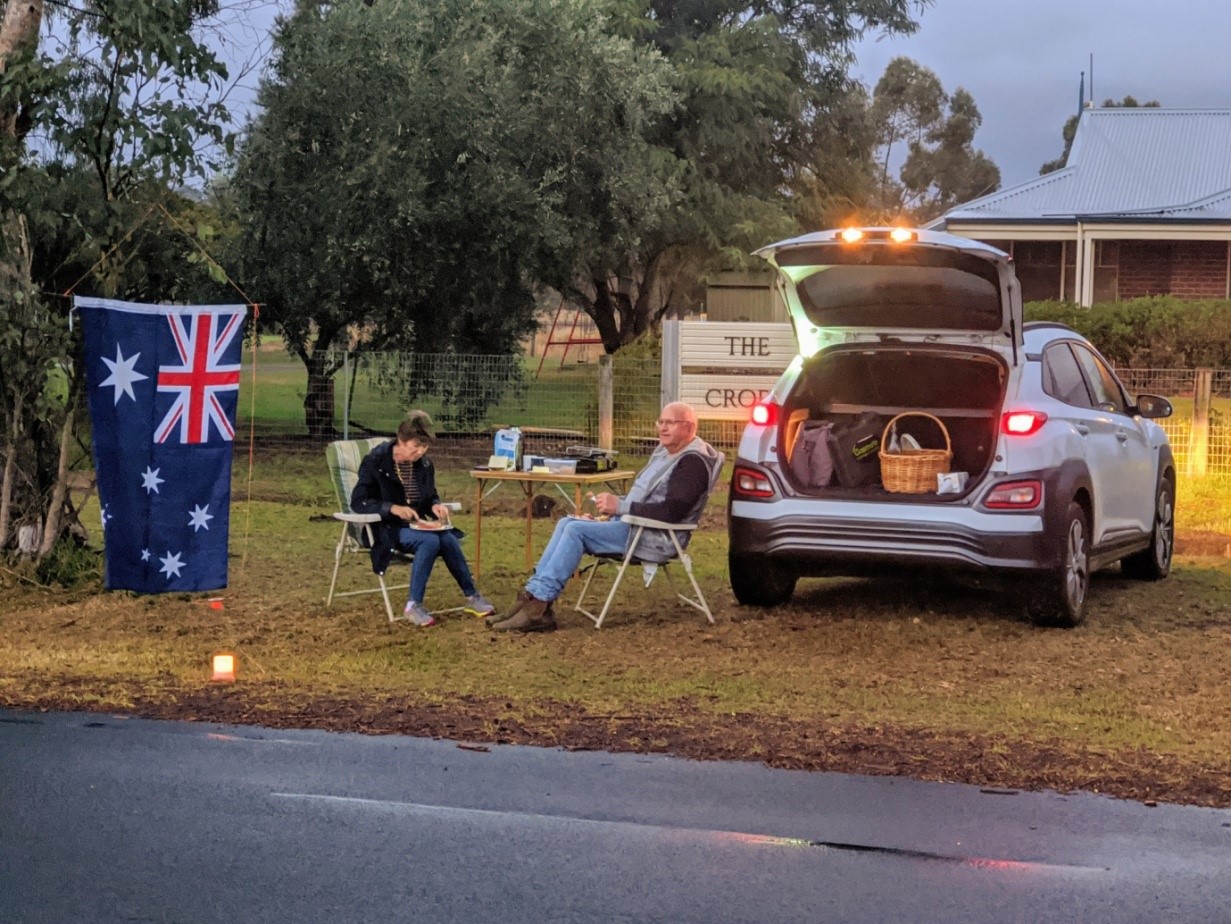 ANZAC Day 2020 was unusual for most. Commemorating the dawn service from the driveway.
The future looks very bright for EVs as more people experience them for themselves.
Tim and Jenny Devereux