A fortunate group of Sustainable Living Tasmania members completed a tour of the Incat ferry construction works on Saturday 28 October, in Derwent Park, Hobart, with Chairman of the Board, Robert Clifford as our guide, hearing about the future for electric ferries.
The tour was organised by Sustainable Living Tasmania, and the report was written by the SLT President, Margaret Steadman.
It was awesome in every sense – the cathedral-like size of the huge workshops and the scope of the technology. Most of us are used to the household scale of change in technology but this is the industrial future on a grand scale.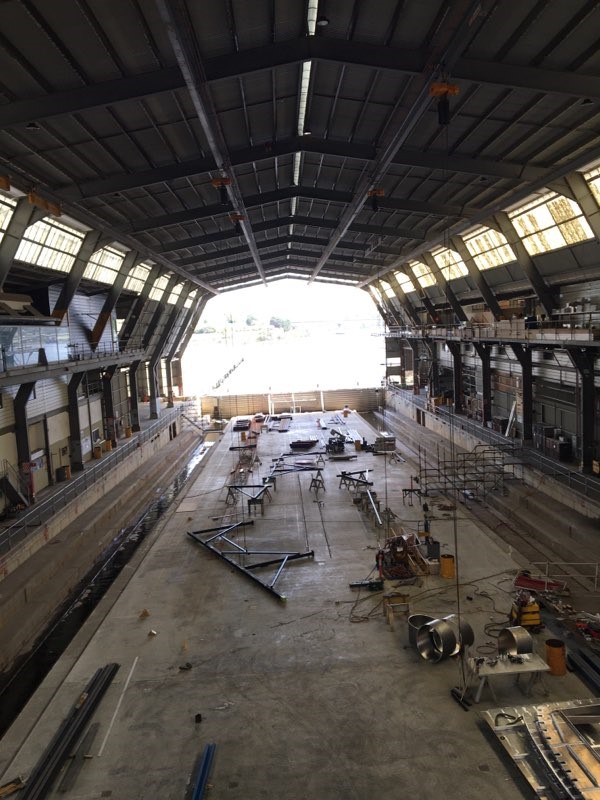 (Image above) Inside the sheds, looking out.
(Image below) A 130m e-ferry under construction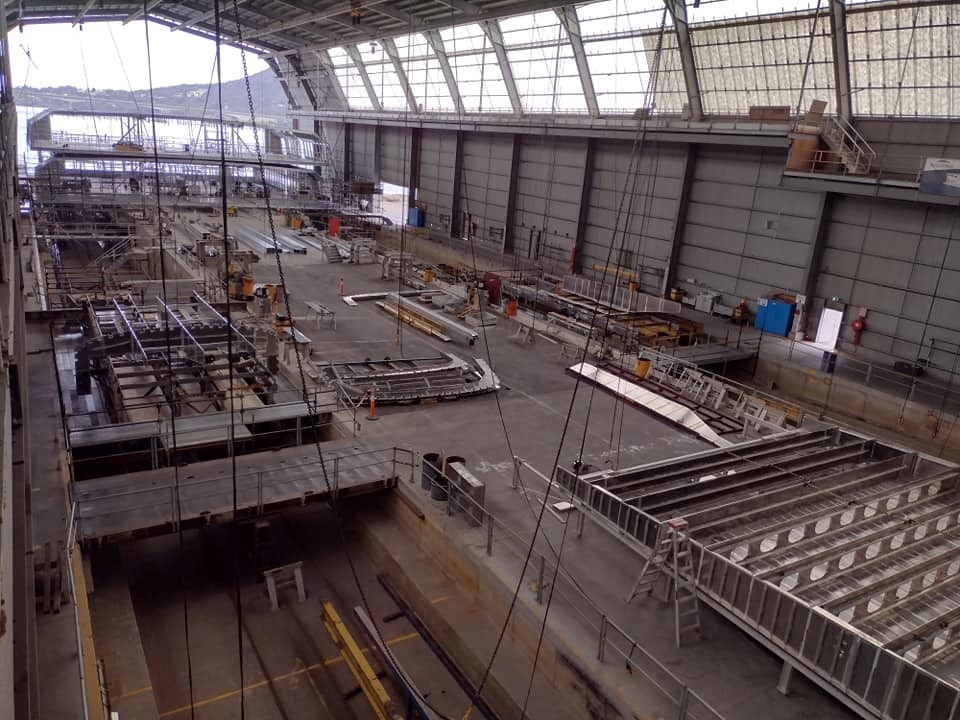 From a long career as builders of diesel ferries small and large (think the Tasman Bridge disaster), Incat has pivoted in just the last 18 months to electric ferry construction and Robert Clifford said their order book contains only e-ferries. Europe, where environmental concerns drive thinking, leads the world and is five years ahead of us, according to Robert. The Incat works are geared to build big so they won't be building e-ferries for the Derwent though he is a supporter of a Derwent ferry system.
The current project is a 130m e-ferry for an Argentinian client who decided, after construction had started, that he wanted to electrify it! If I wrote fast enough to keep up with our guide, this aluminium ship will have 400 tonnes of lithium batteries but will still be much lighter than an equivalent steel, diesel ship, which means less energy needed. It will be shore-charged in 40 minutes when delivered but the first charge in the Derwent will take 158 hours because of the lack of equivalent technology.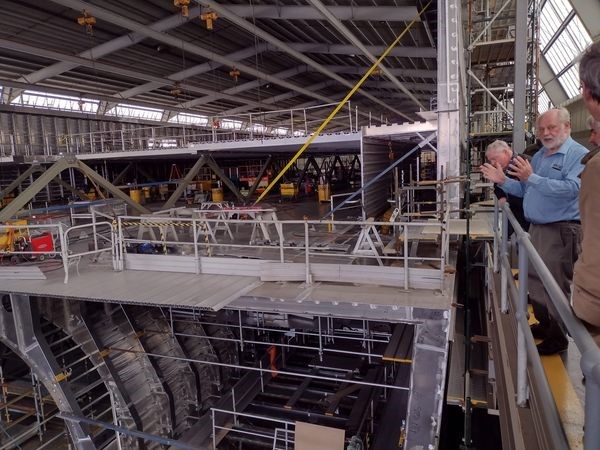 (Image above) Here it is under construction with Robert Clifford taking questions.
(Image below) This is what it will look like when launched.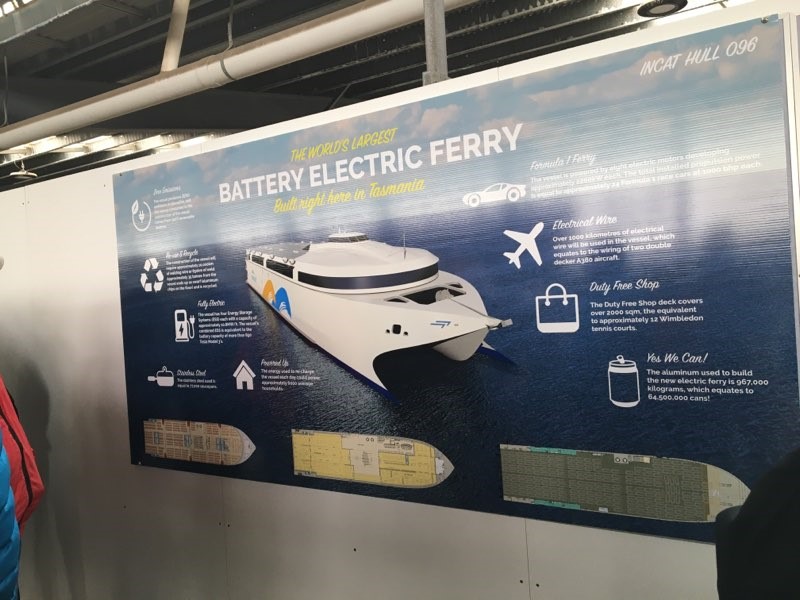 Battery technology is developing quickly which will increase the potential distance range of e-ferries. He anticipates that small nuclear installations may be turned to for their fast delivery capacity (eg France will be able to charge a Channel e-ferry but Dover cannot). He does not see hydrogen as a viable option in the near future. So not simple or straightforward to make the transition to e-vessels! Many ethical questions about the use of resources as well as technical problems, lots to think about. According to Robert Clifford, thousands of e-boats are needed to make the energy transition; some of them will be built in Hobart with a greatly increased workforce. He is confident the market is huge.
When asked if he ever felt nostalgia for the boats of the past, he said 'The next boat is always the best'.
Thank you to Helen Pryor and Ruth Osborne for photos – I clicked on video on my phone somehow and got lots of footage of my moving fingers and feet!
It was exciting to see the future in production and we are grateful to Robert Clifford for his generous gift of time, enthusiasm and confidence (a great substitute for speaking at our AGM!).
I'm back at the small scale now, planting out my tomato seedlings in my back-garden. With so much in the world that is crazy, this is my peaceful place. Take care of one another.