The Electric Vehicle (EV) market in Australia grew almost 200% last year and as petrol prices soar across the country, there is no better time for Canberrans to consider the switch to an electric vehicle. EVs are more environmentally friendly and cost effective over the life of the vehicle.
Held at Exhibition Park, the 2022 Australian Electric Vehicle Association (AEVA) EV Conference and Exhibition – which runs over three days from Friday 5 August – gives attendees the chance to learn more about the expanding range of EV models available in Australia as well as demystify topics such as vehicle charging, range and conversions with access to leading EV businesses, leaders, and transition support organisations from both Australia and around the world.
"In just a few years the EV market offering has changed astronomically," says Chris Jones, Australian Electric Vehicle Association President.
"EVs are becoming more accessible, and with places like the ACT offering a huge range of incentives, are more affordable. The AEVA 2022 EV Conference and Exhibition is for both people who already own EVs, and also for those who are interested in learning more about all aspects of EV ownership".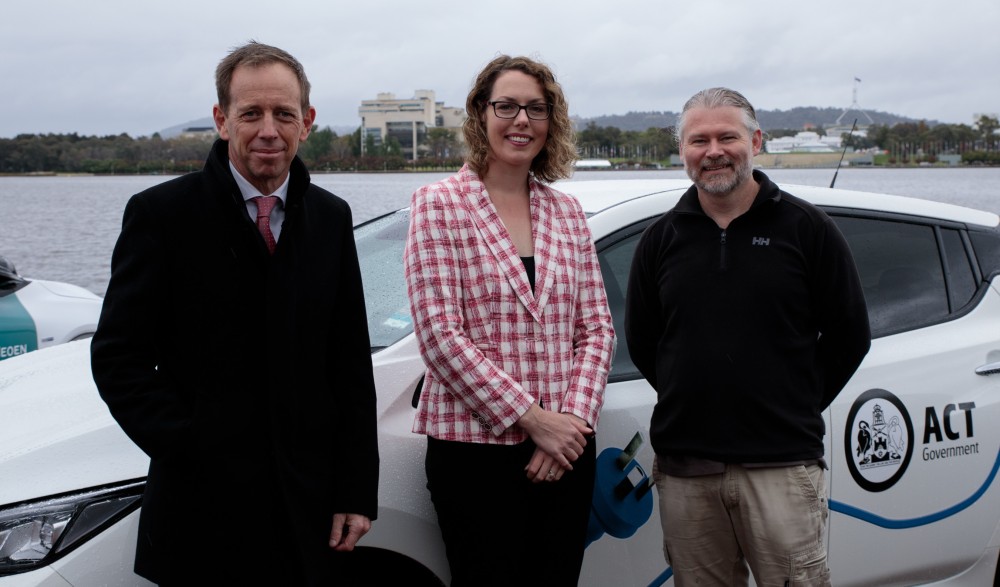 Shane Rattenbury, ACT Minister for Water, Energy and Emissions Reduction, Alicia Payne MP, Member for Canberra and Dr Chris Jones, president of the AEVA, at the launch of the EV Conference and Exhibition
Photo Credit: The Concept Photographer
The ACT Government has a range of incentives for EV ownership including two years free registration, stamp duty exemptions and zero interest loans of up to $15,000 for purchasing EVs or EV charging infrastructure under the Sustainable Household Scheme. Having an event of this calibre, showcasing such a fast-moving industry, is a testament to the desire of Canberra residents to think more sustainably.
Minister for Water, Energy and Emissions Reduction, Shane Rattenbury, is looking forward to the event and the opportunity it provides Canberrans to learn more about the rapidly growing EV industry.
"We know the Canberra community is committed to taking action on climate change, with many people doing what they can to cut emissions ways across the city. Transport emissions account for over 60% of ACT emissions, so reducing emissions from transport is a high priority. With our 100% renewable electricity supply, the shift to electric vehicles is a key part of shifting to zero-emissions transport alongside increased active travel and public transport use," Minister Rattenbury said.
For those already in the EV market, or those looking to make the change, the upcoming AEVA 2022 EV Conference and Exhibition is the perfect place to learn more. The event features a one day conference on emerging and current EV trends as well as DIY workshops, two days of exhibitions, with the opportunity to test drive an electric vehicle and speak to providers across the EV industry and, the Inaugural Gala Dinner.
Applications for exhibitors interested in showcasing their products to thousands of attendees are now being accepted. Find out more via the website below.
More than Electric Vehicles, the AEVA 2022 EV Conference and Exhibition brings together sustainable products, homewares and lifestyle initiatives and runs from Friday 5 August until Sunday 6 August at Coorong and Buddawang Pavilions, Exhibition Park, Canberra. Tickets for the exhibition will launch in the coming months, sign up for the event mailing list and keep updated on the evolving program see https://aeva.asn.au/events/356/
Please contact Michael Day for more information: treasurer@aeva.asn.au
NOTES:
The end-of-year sales figures, revealed today by the Federal Chamber of Automotive Industries (FCAI), show Australians bought 5,149 electric cars in 2021 (up from 1,769 in 2020); 3,372 PHEVS (up from 1,691) and 38 hydrogen cars (up from zero).
https://evcentral.com.au/australian-ev-sales-up-almost-200-in-2021/