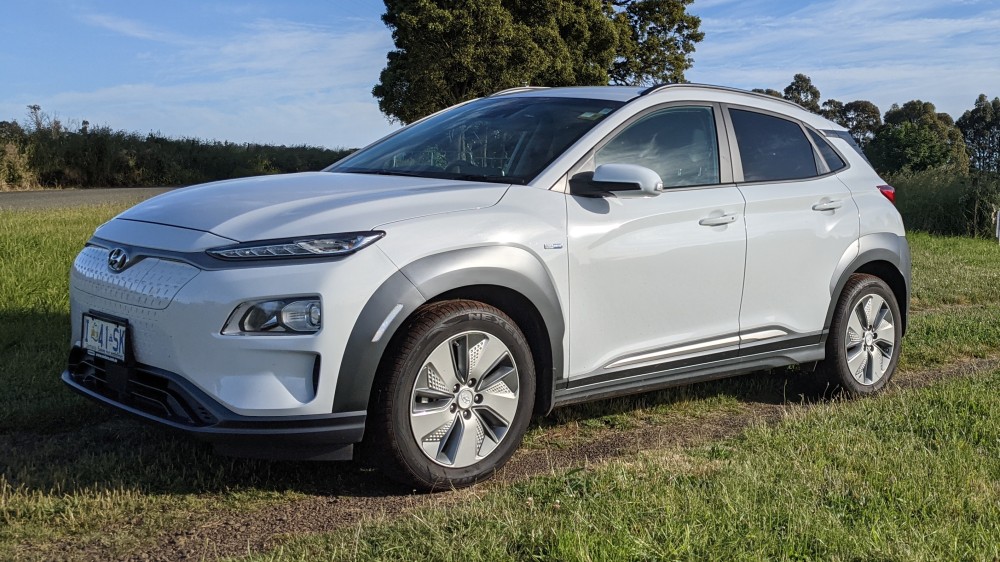 My Kona EV has been with me for just over 18monts and we have travelled some 55 000 km together.
Range is fantastic, close to or just over the 400 kms suggested and I do a majority of highway travel.
We travelled from one end of the state to the other, for pleasure, for work, at times with the cabin loaded to the brim with supplies.
I purchased the base model at the time of the Kona's Australian release. In retrospect I would have stretched a bit further to take home a Highlander just to secure the LED headlights with seat and steering wheel heating. While there are other addons in the Highlander model these have utility in improving my range in winter on those bleak evenings when climatic factors line up against battery performance and every accessory power source is activated – cabin heating, windscreen demisting, night driving lights and windscreen wipers. However, if you are on a budget and living in Tasmania I wouldn't let that stop you from purchasing the base model thanks to a virtually circumferential DC rapid charge network around the island.
To come to my initial question, does the Kona trail behind in the EV stakes? No, I do not believe so for range / battery size, price, and general driveability (its driving performance is exceptional to similar sized ICE vehicles I have owned). However, it could escalate to poll position if only it could tow, in this realm it certainly trails behind!
I dream of being able to pull a trailer with kayaks, garden waste or even a small camper. Indeed, I thought all my wishes had been answered when I read two articles in 'the Driven' of mainland Kona EV owners towing their caravan and boat. I was quick to investigate a tow bar for my Kona; it was feasible, an aftermarket tow bar for the ICE version of the Kona fitted perfectly. I was set to go, but wanted to tick all boxes. Correspondence from the Dept of State Growth, responsible for vehicle and transport regulations in Tasmania, soon put a stop to those thoughts however!
"Tasmanian legislation, in particular the Vehicle and Traffic (Vehicle Operations) Regulations 2014 …. prescribes the towing capacity of a motor vehicle to be that specified by the manufacturer of the motor vehicle or by a calculation where the towing capacity is not specified or unable to be identified (In this instance the towing capacity is specified as '0kg'). The Regulation also provides offence provisions relating to exceeding the towing capacity of a motor vehicle"
Alas it is not legal to tow with my Kona in Tasmania, where penalties apply.
For now, my Kona is trailing behind, but only in not being able to tow… fingers crossed Hyundai will see that EV uptake will be enhanced by adding towing capacity.
In the meantime, my Kona provides me with a pleasurable driving experience and is a great step in the direction of healthy driving eliminating pollution responsible for poor health outcomes and climate change.