By Ben Elliston
First published on TheDriven.io, April 2023.
Anyone paying attention to the take-up of electric vehicles (EVs) in Australia will be well aware that the Australian Capital Territory is the jurisdiction with the fastest growing fleet of electric vehicles. However, for those of us involved with EVs in Canberra for some time, it has been a slow journey.
Someone recently commented to me that EV adoption has gone exponential. I replied, "It always has been." It's just that only someone looking at the data could observe it.
On the ground in Canberra, the presence of EVs is now becoming really apparent. You can't go far without seeing at least a few EVs. It's fun when the opportunity arises for three or four EVs to park side by side in a car park.
Electric vehicles have an interesting history in Canberra. In 1942, senior public servant Sir Roland Wilson built his own battery electric vehicle to drive around Canberra at a time when petrol was being rationed. According to media reports at the time, it was quite the town spectacle. His car had a maximum speed of 20 km/h but in a time of rationing, it was better than nothing. A browse through Trove (trove.nla.gov.au) suggests that electric vehicle conversions were also a hot topic in Canberra in the 1970s as a result of the oil shocks.
In more contemporary times, a small band of enthusiasts called "Canberra EV" was formed 15 years ago and first met in May 2008. This group consisted of people who were either doing conversions or were soon to become the first to buy the expensive Nissan LEAF or Mitsubishi iMiEV vehicles. Some of these people had formerly been interested in promoting renewable energy and once that became too mainstream for them, they jumped from PV to EV!
Within a few months, Canberra EV affiliated with the Australian Electric Vehicle Association (AEVA) and became the ACT branch of AEVA. The group grew in numbers as more early adopters bought the early models. By 2013, one member with both a conversion and an iMiEV owned more than one per cent of all the EVs in Canberra.
Further increasing the visibility of EVs was the ACT Government being an early fleet buyer of plug-in hybrids and battery EVs. I believe in the early days of the Nissan LEAF, one local Nissan dealership was the biggest seller of electric cars in Australia. Better Place installed a small but important charging network in Canberra. The last remains of this network can still be found in parts of Canberra.
The local AEVA branch played a crucial role in educating Canberra about electric vehicles from the early days. From 2009 to 2015, AEVA ran six annual Canberra International Electric Vehicle Festivals at prominent locations such as on the lawns of the Old Parliament House and in the city centre (See here, here, here and here).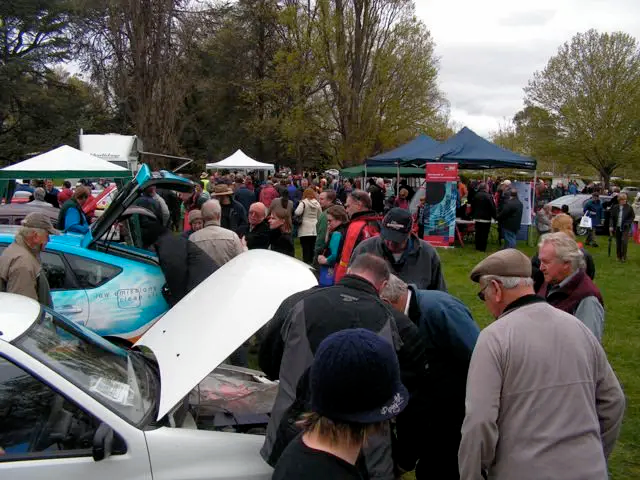 Due to the hard work of the festival organisers and exhibitors, Canberrans got exposed to EVs earlier than perhaps many others in Australia. AEVA ACT had static displays for several years at the Summernats street machine festival and in 2016 a Tesla Model S was entered.
It would have won the 'Go to Whoa' competition but for a technicality. I think Canberrans are generally better informed about EVs as a result of this early advocacy work. I really admire the patience of the exhibitors having to answer those early questions like "Can you keep up in traffic?"
Canberra has a few things about it that make EVs pretty easy. First, many people have off-street parking with easy access to a power point in their garage or carport. Second, the distances around town are not huge and even in an early model EV with modest range, you can generally manage fine with regular overnight charging.
It is a bit of a paradox that despite the ACT having such high levels of EV ownership, public charging facilities are relatively sparse. So long as you have access to convenient home charging, it is very rare to need to use public charging stations.
Unfortunately, tourists and other visitors seem to have been overlooked and complaints about the lack of charging infrastructure in Canberra for visitors are common. I recently saw an electric car charging in a hotel car park in the city centre with their portable charge cord running to an outdoor power point.
This is in the centre of Australia's capital city! In February, the ACT branch of AEVA wrote to every hotel and motel in Canberra volunteering assistance to help specify a few proper charging stations for their guests.
How well is the EV revolution going in Canberra, then? It's always helpful to ponder the numbers. By January 2020, the number of battery EVs stood at 446 and less than 0.15 per cent of the ACT passenger vehicle fleet.
In just three further years, that number has grown to 4,588 and has exceeded an important early milestone of one per cent of the total vehicle fleet. The ACT Government reports on its EV dashboard that almost 21 per cent of newly registered vehicles in May 2023 were battery electric vehicles.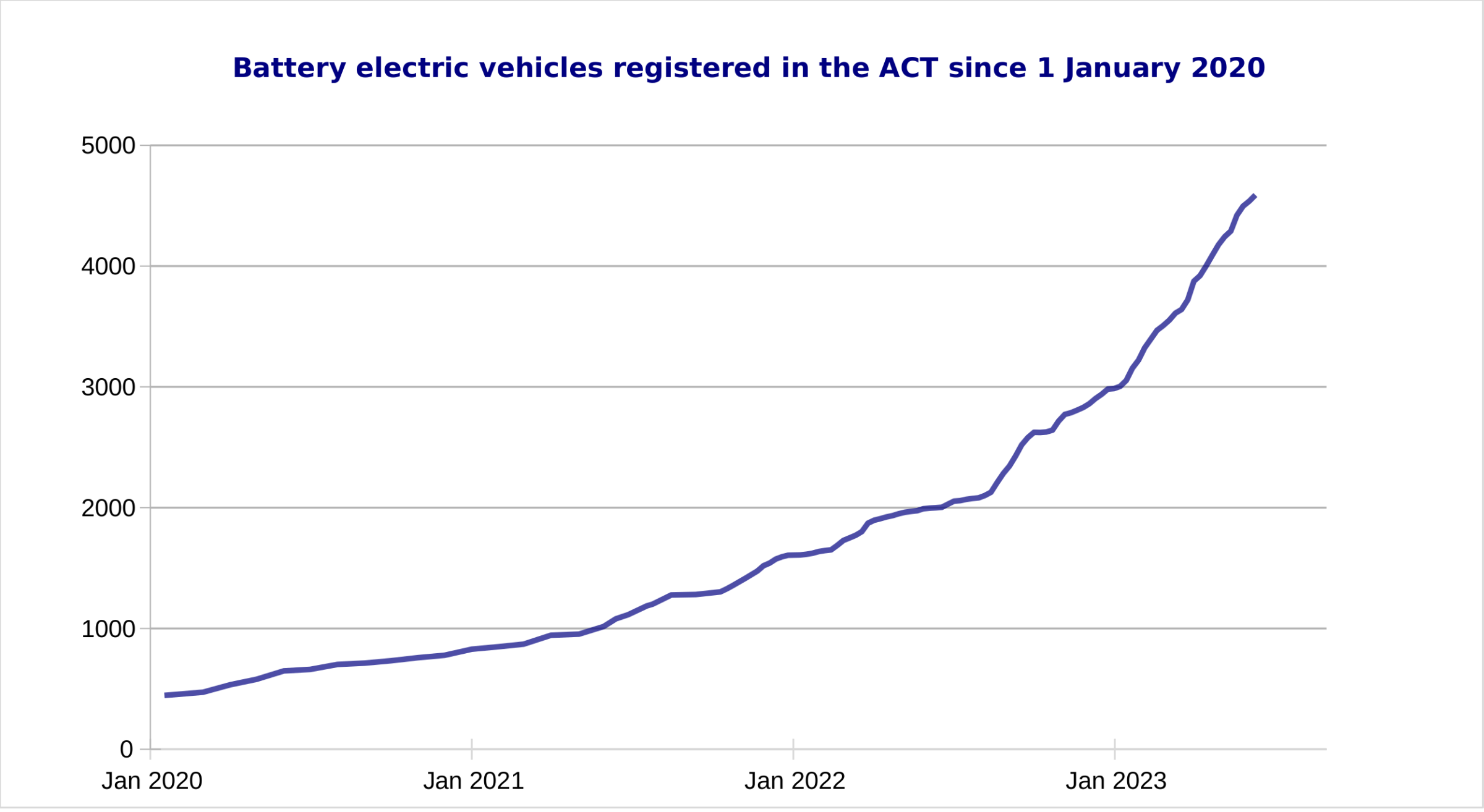 The data also show that plug-in hybrids are not selling well (perhaps because Tesla doesn't make any!). Only two further fuel cell vehicles have been registered since 20 Hyundai Nexo vehicles were registered in March 2021. You can draw your own conclusions about how the EV market is developing!
The flourishing EV community in Canberra is a fun thing to be involved in. I don't think you can say that Canberra is Little Norway just yet, but things are ticking along pretty well by Australian standards.
Ben Elliston is the advocacy working group convenor of the ACT branch of AEVA. The views expressed in this article are his own and not necessarily those of AEVA. The author thanks Bill Gresham and Peter Campbell for their recollections, fact checking and photos.