https://aeva.asn.au/shannons-act-wheel-2022-winner/
Shannons ACT Wheel 2022 Winner
(Extracts from the Regional Independent Newspaper No308 by Editor Sharon Baxter-Judge)
The Council of ACT Motor Clubs in association with the Canberra An- tique and Classic Motor Club hosted the 40thanniversary of the Shannon's Wheels Car Show last Sunday at Queanbeyan Showground.
This year's 'Car of the Show' trophy was decided by the amount of donated coins/tokens each participant received from the public. The 2022 trophy was won by John Smith and his modified Tesla.
John's Tesla has been modified for his needs.
 "The hand controls I have had fitted are an ergonomicradial hand control by Fadiel Italiana, imported from Italy and the version I have is the lever grip. There are other possible hand controls, such as Ki vi Hand Controls available as push/pat or radial and, I am sure, many others depending on who you deal with. My controls were installed by Chris Major at One M Engineering in Queanbeyan. He is an automotive engineer and provides an engineering certificate which must be presented to the Motor Registry to get the modifications approved.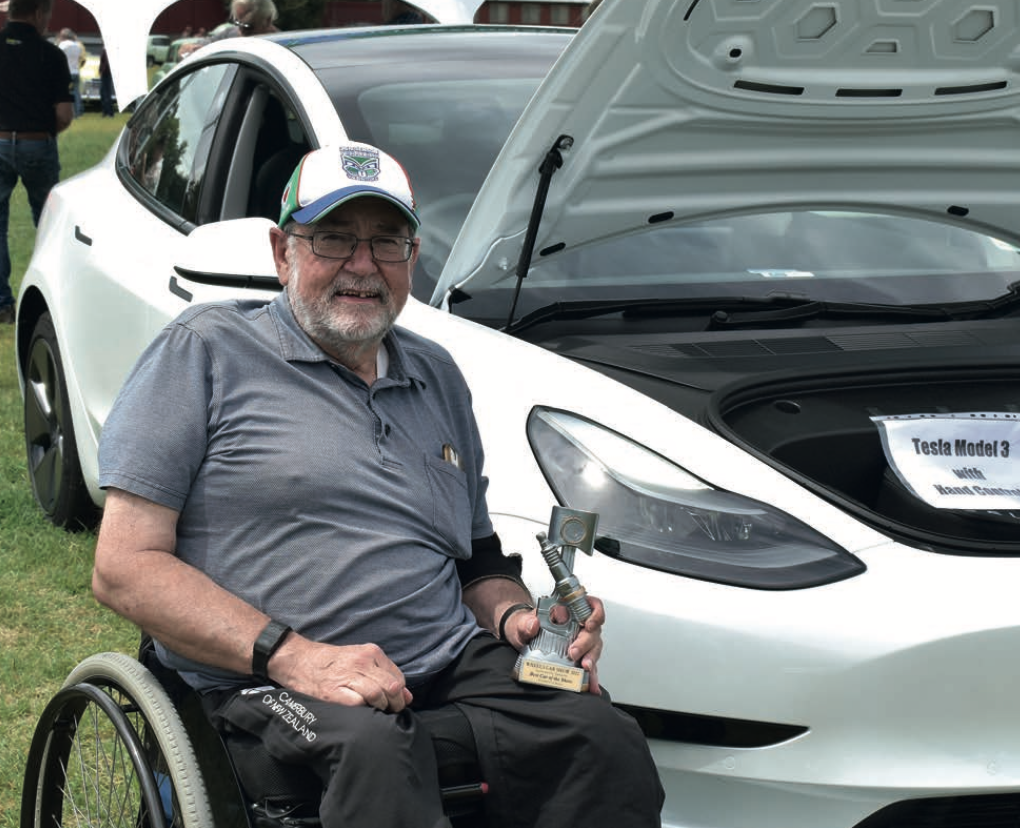 The Tesla Supercharger (used when traveling out of Canberra) is not accessible to me from the wheelchair, and I rely on my wife or another passenger to plug in. Charging at home on my 15A tail is within easy reach though.
My foldup wheelchair fits quite easi ly in the boot, though there is not a lot of room left for luggage, which would have to fit on the back seat." Read more about AEVA ACT at Shannons Wheel here