https://aeva.asn.au/perth-to-esperance-electric-highway-fundraiser/
Perth to Esperance Electric Highway Fundraiser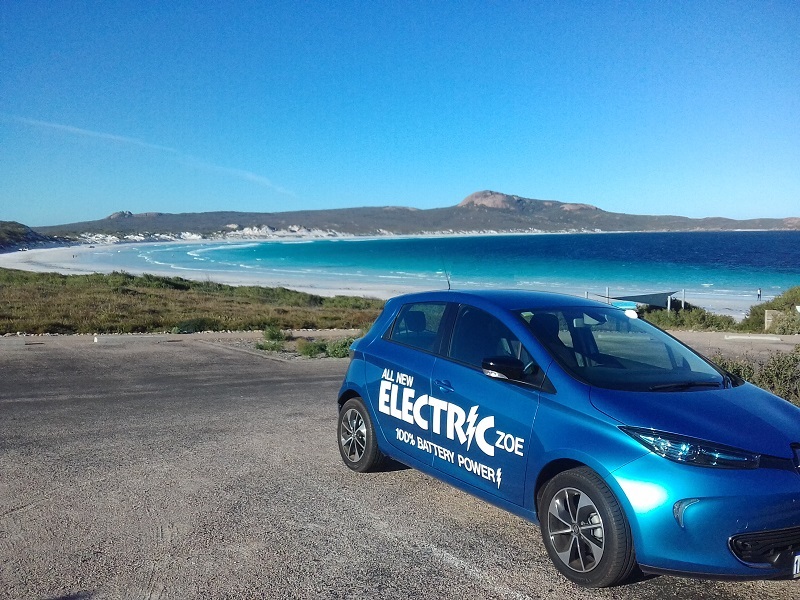 In December 2019, WA electricity network provided Horizon Power approached the AEVA asking about EV charging infrastructure. The state-owned company was buying a couple of EVs for it's fleet, including a Hyundai Kona for the Esperance depot, so the need for charging equipment was apparent. Horizon asked if the WA branch of AEVA could help get a charger installed in Esperance.
The WA branch decided to raise the stakes - let's build an entire charging network between Esperance and Perth!
The goal is to raise enough money to purchase the 50 kW chargers and install them in places like Lake Grace and Ravensthorpe, as well as any toher towns in the southern Wheatbelt keen to host one. Electricity supplies out here are weak, so network upgrades may be necessary; hence the target of $350,000.
Since starting the campaign, we had devestating bushfires on the East coast, a global pandemic, economic recession and massive political upheaval. What a great time to be raising money for EVs hey? Despite these challenges, we have raised over $76,250 and have purchased two 50 kW DC fast chargers. The first one has been installed in Lake Grace thanks to the generous supoprt of C. D. Dodd Scrap Metals in Forrestfield and the support of the Lake Grace Shire Council who are supporting the installation costs. The second charger is destined for Ravensthorpe and efforts to install it at the shopping centre in town are underway.

If you would like to donate to the fundraiser (all donations are NOT tax deductable - we are not registered as a gift-deductable charity) please visit the campaign page and make a donation. You can make an off-line donation if you like, just send an email to secretary@aeva.asn.au for details.
Thanks to all who have donated so far:
| | |
| --- | --- |
| Name | Donation |
| C. D. Dodd Scrap Metal Recyclers | $15,000.00 |
| Colin Lorrimar | $15,000.00 |
| Anonymous | $5,000.00 |
| David Smith | $5,000.00 |
| Harald Murphy | $5,000.00 |
| Jon Edwards | $5,000.00 |
| Ken Hall | $5,000.00 |
| Brendon McCarrol | $1,500.00 |
| Annie Atkins | $1,000.00 |
| Anonymous | $1,000.00 |
| David Lloyd | $1,000.00 |
| George Nigg | $1,000.00 |
| Joseph Law | $1,000.00 |
| Justin Richards | $1,000.00 |
| Louise and Toby Pearn | $1,000.00 |
| Richard Chapman | $1,000.00 |
| Rob Dean | $1,000.00 |
| Tim Devereux | $1,000.00 |
| Wigman Holdings | $1,000.00 |
| James Anderson | $550.00 |
| Adam Pedley | $500.00 |
| Brian and Robyn Feutrill | $500.00 |
| Denni and Matthew Clifton | $500.00 |
| Gareth Nealon | $500.00 |
| Jean Cleaver | $500.00 |
| Peter Petrovsky | $500.00 |
| TeslaInTheGong Nash | $500.00 |
| Philip Trinham | $395.00 |
| A Roy Butler | $300.00 |
| William Sinclair | $300.00 |
| Graeme Martin | $250.00 |
| David Carter | $200.00 |
| Jason Brooks | $200.00 |
| Sam Lane & Pete Petrovsky | $190.00 |
| Amber Gupta | $110.00 |
| Adrian Dawson | $100.00 |
| Ant Day | $100.00 |
| Ben Rose | $100.00 |
| Bill Gresham | $100.00 |
| Christina Costigan | $100.00 |
| Connor Davies | $100.00 |
| David Cann | $100.00 |
| David King | $100.00 |
| Gordon Murray | $100.00 |
| Joshua Wilson | $100.00 |
| Kieran Andrews | $100.00 |
| Kim Wilkinson | $100.00 |
| Leo Kerr | $100.00 |
| Michael den Brok | $100.00 |
| Michael Hibbard | $100.00 |
| Natalya & Galen Townson | $100.00 |
| Paula Samson | $100.00 |
| Peter McMullen | $100.00 |
| Philip Holliday | $100.00 |
| Rob Grieves | $100.00 |
| Robyn Edwards | $100.00 |
| Sam Zacharopoulos | $100.00 |
| Sylvia Wilson | $100.00 |
| Dale Solomon | $80.00 |
| David Letts | $75.00 |
| Anthony Martin | $50.00 |
| Barry Iacopetta | $50.00 |
| Brad Plunkett | $50.00 |
| Chris Jones | $50.00 |
| Greg Gibson | $50.00 |
| M Ellims | $50.00 |