WA Government announces $21 million in funding for DC chargers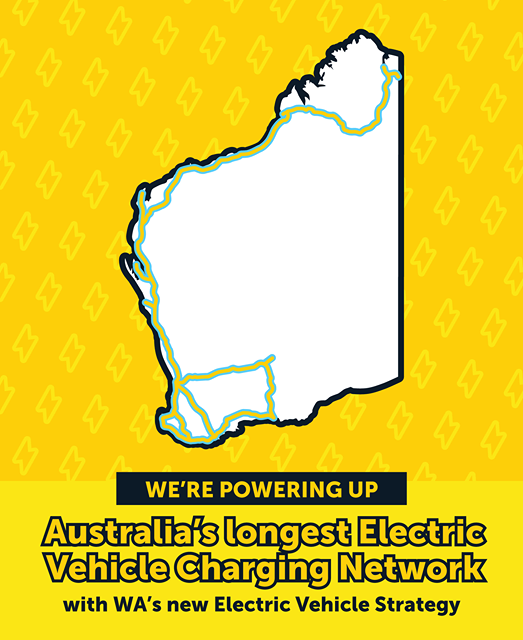 The McGowan Government is steering towards a cleaner future with the release of Western Australia's first ever Electric Vehicle Strategy.
The strategy will be accompanied by the almost $21 million Electric Vehicle Fund - including the largest single investment in EV charging infrastructure in Australia by a State or Territory Government.
The strategy is a key element of the Western Australian Climate Policy that commits to delivering a cleaner, more sustainable environment through the increased uptake of low and zero emission vehicles.
The strategy will facilitate the creation of Australia's longest, and one of the world's longest, electric vehicle charging infrastructure networks - from Perth to Kununurra in the North, Esperance in the South and Kalgoorlie in the East.
Western Australians and visitors will be able to access fast charging stations along major travel routes in the regions, town and city centres, and tourism sites. Construction of the network will also create jobs in metropolitan and regional areas.
The State Government will lead by example by increasing its own fleet of electric vehicles, committing to a target of acquiring at least 25 per cent electric vehicles across eligible vehicles in the State fleet. To support the State Government's electric vehicle fleet target, electric vehicle charging stations will be installed in government buildings.
The strategy will also facilitate EV uptake by developing and updating standards, guidelines, and requirements for planning approval, as well as improving levels of consumer awareness and knowledge.
Global and domestic uptake of electric vehicles also presents significant opportunities for industry and jobs growth in WA. In recognition of this, the strategy supports the uptake of hydrogen fuel cell electric vehicles, aligned with the Western Australian Renewable Hydrogen Strategy, as well as the initiatives in the Future Battery Industry Strategy released in 2019.
In 2019, the McGowan Government committed to working with all sectors of the economy to achieve net zero greenhouse gas emissions by 2050. The adoption of electric vehicles powered by increasing levels of renewable energy will be fundamental to reducing greenhouse gas emissions in the transport sector.