EV rebates for NZ Announced. ICE cars to pay more.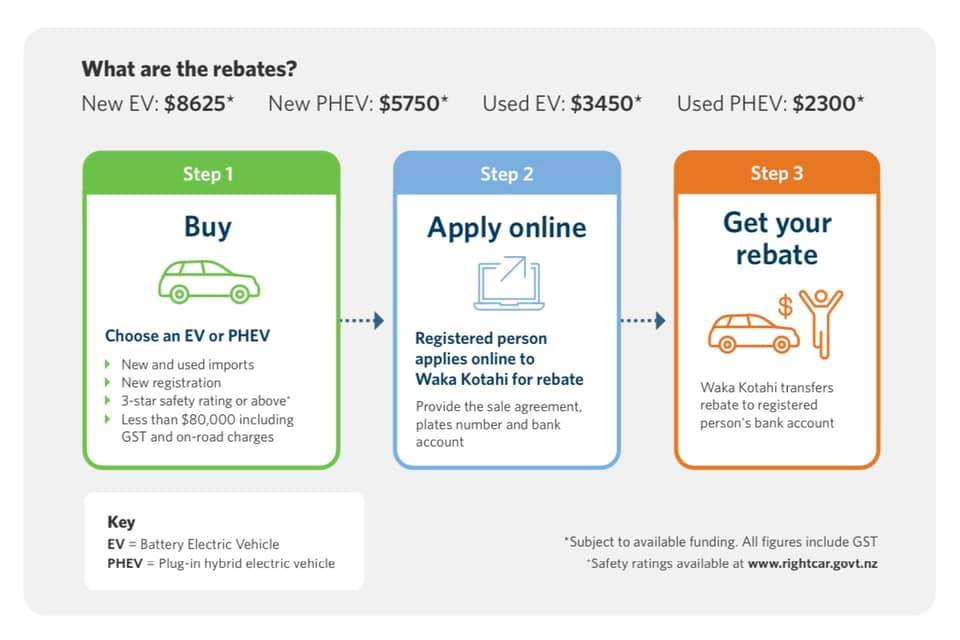 The Labour Government has confirmed the first details of its proposed 'feebate' scheme, designed to make electric cars more accessible by introducing a charge on high-emissions vehicles.
From July 1, new electric car buyers will be able to get a taxpayer-funded rebate of up to $8,625 on their pure EV. New plug-in hybrid buyers will get up to $5,750. Each rebate can only be cashed in on cars priced under $80,000.
Second-hand EV and PHEV buyers get rebates, too. Up to $3,450 will be offered to second-hand EV buyers, and $2,300 for second-hand plug-in hybrid buyers. The cars purchased need to have at least a three-star safety rating in order to be eligible.
The rebate will be paid for via charges added on top of the price of internal combustion vehicles, weighted according to how fuel efficient each vehicle is. These charges will be introduced in January 2022, and will not impact vehicles already in the country.
For example, a new Toyota Hilux will reportedly incur a $2,900 charge and a Kia Sportage an extra $1,230. Curiously, according to the NZ Herald, the Nissan Navara is listed as only incurring an $830 charge. Petrol cars judged to be low emitters won't incur any new charges.
"Our monthly registrations of EVs are around half the global average and sales are well below the 50 per cent of monthly sales seen in some European countries," says Transport Minister Michael Wood.
"It's a common policy overseas, a recommendation of both the Climate Commission and the Productivity Commission, and is supported by the likes of the Motor Industry Association – it's time to get moving with it."
This is the second time Labour has proposed a feebate-style scheme, with the last coming in July 2019 via its 'clean car discount' scheme. The scheme scored points for allowing discounts on a variety of low-emission vehicles (not just pure electric), but was criticised for some of its mixed messaging, the lack of non-ICE options at the time, and the free pass it gave for certain grey imports.
Motor Industry Association chief executive David Crawford approves the scheme. "We are delighted that at last the Government has confirmed details of their introduction," he says.
"We are also pleased that the Government has had the foresight to bring in an interim rebate from 1 July this year for EVs and PHEVs while it takes time to put in place the regulatory law required for a full feebate scheme which will come into effect in 2022.
"The level of rebate offered is significant. It will in our view address in part the lack of affordability new low emission vehicles cost compared to their internal combustion engine equivalent models."
Among Crawford's few complaints is the relaxed fringe benefit tax (FBT) rules, which he says don't go far enough. "The rules around allowing the discount when calculating FBT and depreciation will go some way to addressing barriers to uptake of low emission vehicles by businesses. However, it stops short of the 50% reduction in FBT for electric vehicles we have consistently called for."
Mark Gilbert, the chair of Drive Electric, is also a fan of the announcement. "Taken together, the emissions standards and consumer incentive, puts New Zealand on the map for electric vehicle manufacturers," he says.
"We are telling them, New Zealand is a serious market for electric vehicles and we want that supply. We are looking forward to them bringing in new ranges and models. For consumers, EVs are already cheaper over their lifetime than a petrol car, however the upfront costs are a barrier for the time being. This incentive levels the playing field between electric and petrol.
"While the incentive is another important milestone, we cannot overlook the complexity of this challenge. We need electricity and charging infrastructure to meet new demand. We also need more walking, cycling, e-bikes and ride sharing. EVs alone won't get us to a zero emissions transport system."