Perth Electrikhana - Canning River Parklands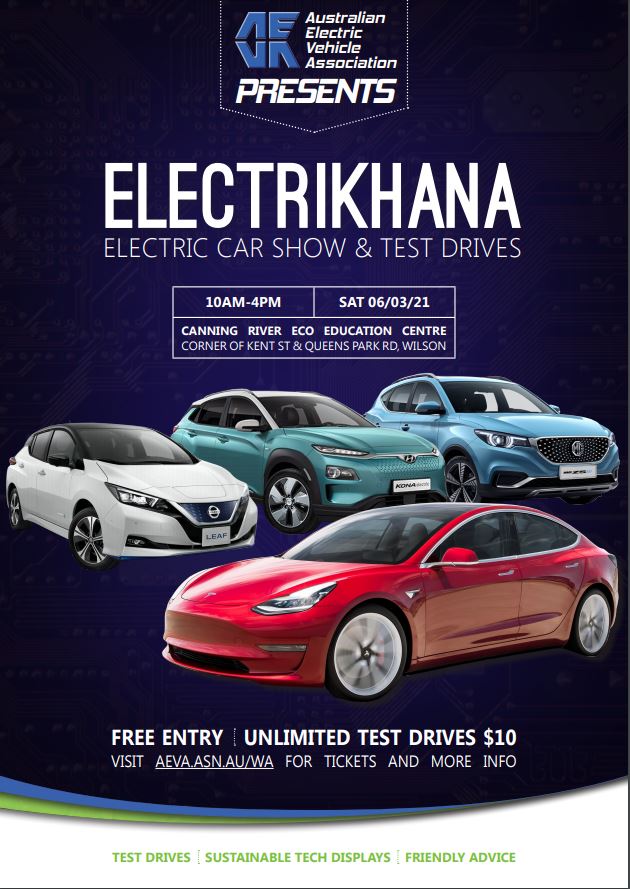 WA Branch held our 11th Electrikhana on the 6th of March. While we had lots of vehicles on show, including commercial and private, conversions and manufacturer, dealers were scarce due to stock levels , allegedly.
Despite this, many punters had their first drive in an EV and the phrase "my next car will be electric" was heard often by AEVA members accompanying those driving the various cars available to be driven - including a Jaguar iPace, Hyundai Ioniq, several Tesla Model 3, Nisan Leaf ,Hyundai Kona and a Mini. An MG was also ferrying riders around and that vehicles ground breaking price was a decider for a few who thought that they could not afford an EV!
We had fewer attendees than in previous years but it was no less fun and having more time to chat to a higher percentage of committed future EV buyers was a rewarding experience. Many EK attendees have returned to drive at EV with their new cars - and EK was no exception.
See photos here:
Location: Canning River
Kent St and Queens Park Road
Cannington , WA 6107
Date:
March 6, 2021, 10 a.m. - March 6, 2021, 4 p.m.